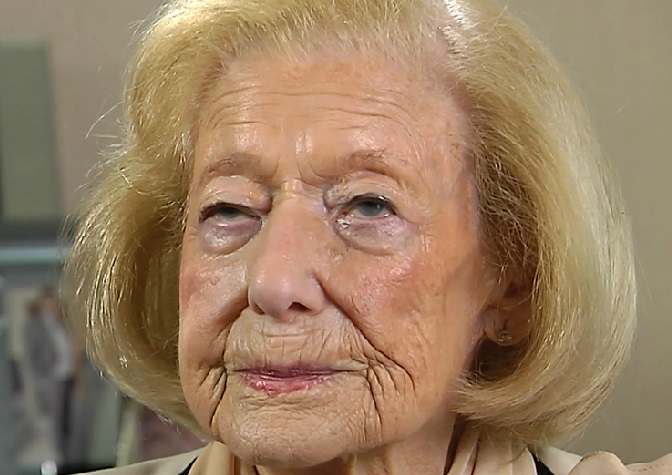 Gena Turgel
This story almost meets all of the
required elements
for a good holo fable.
Gena is originally from the Jewish ghetto of Krakow, Poland. She was 16 in 1939 at the outbreak of the war.
She says she first was sent to the Plaszow concentration camp for two and a half years before being sent to Auschwitz, where she was tested on by Doctor Joseph Mengele.
Gena says that one day at Auschwitz she was sent naked with hundreds of other inmates into a room, which she thought was a shower. "Ice-cold" water came out of the showers, she says, and she drank some of the water because she was so thirsty.
Then after she came out of the room, some women screamed at her, "Oh, you are alive! Don't you know what has just happened to you? You were in the gas chamber!"
Gena does not know how she survived. She says "it must not have worked".
So, was that "gas chamber" actually a delousing chamber used to disinfect inmates in order to prevent disease? Or was it a homicidal gas chamber, and Gena is another example of a HolyHoax miracle?
Miraculously, the Germans decided not to holocaust Gena after she survived the delousing gas chamber.
As the Soviet Army closed in towards Auschwitz, Gena says she was sent on a "death march" to Buchenwald, and then to Bergen-Belsen, where she shared a barracks with Anne Frank, of all people.
Gena claims seven siblings and her father were holocausted.
LONDON — Of all the stories of survival from the Auschwitz concentration camp, Gena Turgel's is one of the most astonishing.

"When I think back, I have to pinch myself sometimes to see if I'm really alive," the 90-year-old told NBC News.

Turgel, an elegant woman with more than a hint of mischief in her blue eyes, survived not one or two, but three Nazi concentration camps.

In the most notorious of all, Auschwitz-Birkeanau, she was herded naked into a gas chamber with hundreds of others.

Yet Turgel, who was 21 at the time, walked out alive.

She had no idea the Nazis had tried to kill her until a woman she knew said, "Don't you know what has just happened to you? You were in the gas chamber!"

Turgel still looks amazed to have cheated death.

"I completely lost my voice," she said. "I just never realized I was in the gas chamber ... it must not have worked."

"I wear a lot of perfume. The stench of the camps will always stay with me and I try to block it out"

Turgel's life sounds like a history of the war. She was 16 when her hometown of Krakow, Poland, was bombed by the Nazi Luftwaffe on Sept. 1, 1939, the first day of the war. She had relatives in Chicago but the family was too late in acting on their plan to move there, and Poland was swiftly sealed by the Germans.

In Krakow's Jewish ghetto, she lost two brothers fighting the Nazis. She then was sent to Plaszow concentration camp where she survived for two-and-a-half years until she was marched to Auschwitz. She survived testing by the infamous Nazi Doctor Josef Mengele.

After two months, as the Red Army advanced towards Auschwitz, she was sent on a "death march," first to Buchenwald concentration camp and then to Belsen, where she shared a barracks with the dying Dutch teenager Anne Frank.

When Belsen was liberated by the British, she showed a handsome young army officer, Norman Turgel, around the makeshift hospital where she worked. Within six months they were married.

Every story of survival at Auschwitz is extraordinary but hers is perhaps unique.

"I wear a lot of perfume," she whispers. "The stench of the camps will always stay with me and I try to block it out." It's not the only physical reaction she has to her ordeal. Her 17-year-old sister Miriam used to sleep with her, on her left side. Miriam was shot by the Germans for smuggling food into Plaszov. She says she still feels a constant chill along her left arm.

The ghosts of the camp and her family — she lost seven siblings and her father — still haunt her. As we talk, tears come to her eyes, but she doesn't let them fall.

"To cry in Auschwitz could have you shot," she said. "We had to be strong, to block out everything."

The killing of four Jews in Paris by Islamist radicals earlier this month sent a shiver through Turgel. It reinforced the message she has tried to teach in the schools she visits regularly, that the hatred of Jews is not consigned to history and is instead kept alive and must be fought against.

She has been back to Auschwitz twice with her grandsons, passing on her memories to new generations and on Tuesday, at home in London, she will be watching the ceremony to mark the 70th anniversary of the camp's liberation.

Turgel is determined to speak today, to try to ensure that Jews never again face the same threats.

"Those people were real. They were mothers and fathers, uncles and aunts, doctors and teachers, poets, wonderful people. Composers. And now they scream in silence," she says. "My story is only one story, but it is the story six million others cannot tell. I was, and always shall be, the witness to ... mass murder."
Article:
"Auschwitz Survivor Gena Turgel Walked Out of Gas Chamber Alive"