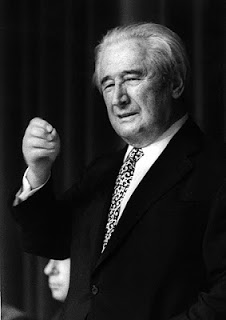 Nahum Goldmann
, founder of the immensely powerful World Jewish Congress.
Served as WJC president 1949–1977 (acting to 1953).
Was also president of the World Zionist Organization 1956-1968.
This story was reported in many newspapers of the day, including The Palm Beach Post, which reported:



"Dr. Nahum Goldmann, administrative committee chariman of the World Jewish Congress, said today that if the Nazis should achieve final victory "6,000,000 Jews in Europe are doomed to destruction."



Article is archived by google News
HERE
.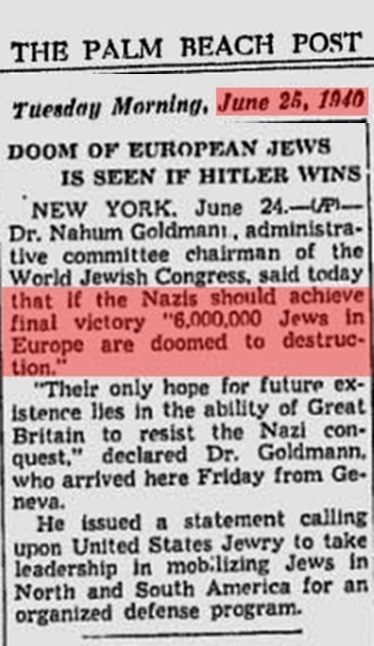 See also:
-
Jews alleged a "holocaust" of "6 Million" Jews in Romania, Poland and Ukraine in 1919 at end of WWI !!! (The American Hebrew article)
-
1919 New York Times article: "6,000,000 Jews" in Ukraine and Poland are "going to be completely exterminated"!!
-
NY Times reports in 1906 that Russia's "6,000,000 Jews" facing a final "solution" of "systematic and murderous extermination"
-
New York Times reports that Russia's "6,000,000 Jews" were "facing extermination by massacre" in 1921!
-
The Kabalistic-Occult origins and purpose of the Holocaust™ dogma, and the 6 million number
-
Early Holohoax Tale - 64 million Jewish children wrapped in scrolls and burned by the Romans in 2nd century A.D.