UD:s hemliga dokument
om Ahmed Rami

Le Tribunal militaire au Maroc
recherche Ahmed Rami

Militära domstolen i Marocko
söker Ahmed Rami

Morocco document about Ahmed Rami
---
Original dokumentet från den Militära domstolen
i Marocko om Ahmed Rami.(
Svensk översättning
)

---
Andra dokument
---
Autres documents
---
Auther documents
---
...the freedom fighter!
| | | | | |
| --- | --- | --- | --- | --- |
| | | | | |
When...

When treason reigns, and mischief overhelms, and mouths are muzzled, there is nothing one can do except what Khalid al-Islambuli and his brothers did.

Khalid al-Islambuli, the people's spear in the heart of treason, the thunder of anger in an environment of submission and lack of championship. He is a torch in the gutter of silence, and the cry of truth in the face of the despots.

Peace be upon thee the day the first bullet hit the chest of the despot and overthrew the throne: He was soaking in his blood, and you took revenge for Egypt and all the muslims.

Peace be upon thee when you fell, a martyr, reverbating from the deep earth your last Adieus...

Ahmed Rami (from Ahmed Rami´s book "Ett liv för frihet")

---

Quand...

Quant les voleurs, les hypocrites et les traîtres gouvernent un pays...
Quand les libertés sont bafouées...

Quand la trahison règne...

Quand la corruption la décadence et l´injustice devient système de gouvernement...

Et quand les bouches sont muselées...

Alors, il ne reste plus à faire que ce que Khalid al-Islambuli et ses frères ont fait.

Khalid al-Islambuli, la lance du peuple contre le coeur de la trahison, le grondement de la colère dans un monde de soumission. Martyre, il demeure la torche éternelle dans les tésnébres du silence et de la lacheté, et le cri de la vérité face aux tyrans et aux dictaturs corropues qui poluent ce monde.

Gloire à toi pour le jour où tu tiras la première balle contre la poitrine du traître despote et renversa son trône vengeant l'Egypte et toute la nation islamique.

La paix soit sur toi le jour où, exerçant ton devoir sacré, tu tombas martyr, faisant raisonner tes derniers adieux du plus profond de la terre...

Les "grands" ne sont "grands" que parce que nous sommes à genoux !

Levons-nous!

Ahmed Rami (extrait de son livre "Ett liv för frihet")



---

---
Khalid Al-Islambulî
In the court cell at the trial in which he was sentenced to death
for the assassination of the enemy of God, Anwar Saddat.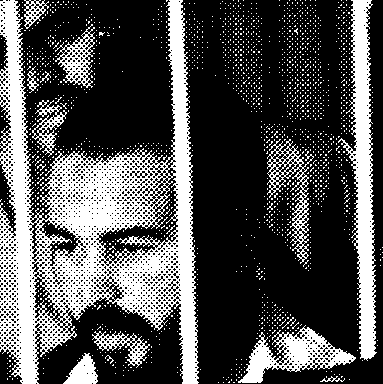 Khalid Al-Islambuli
Dans sa cellule du tribunal, au procès pendant lequel il fut condamné
à mort pour l'execution de l'ennemi de Dieu, Anwar Saddat.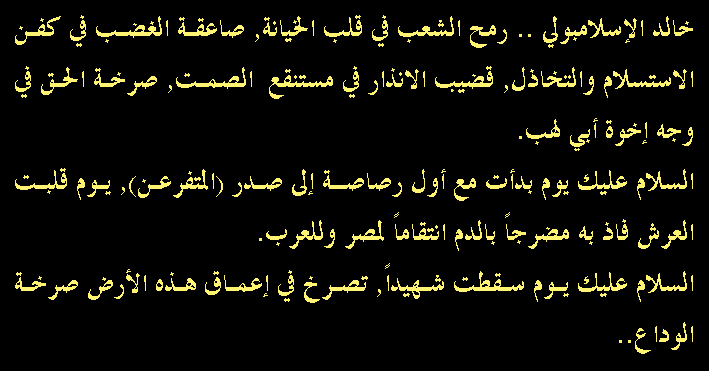 Latest Additions
_____________________________________________ _________________________________________________________
Our weakness
We must know that our weakness is Israel's strength.The regimes that are in power in our countries are like dead bodies, our "leaders" are politically finished. Instead of stepping down in honor, they cling bitterly to power and try to drag their peoples along into the precipice.

In the first place, we must conquer tyranny, decadence and corruption in our own hearts and in our countries! Instead of giving up, we must work seriously to create the economic, political, military and social conditions for the future victory of the Justice.

The future belongs to the forces of Islam. The Hezbullah, Hamas and the Jihad are the Islamic response to the Zionist challenge. The Islam began in the 6th century as a cultural, and spiritual movement against the superpowers of that time.

The military strength of the Islam grew as a consequence of its spiritual strength. Today, capitulating before the jewish arrogance is not a solution; it is betraying the future generations. If we can not create victory today, we muste not create defeat ourselves. The least We can do is to capitulate without resisting.

Any "solution" violently extorted, any unjust "peace" (capitulation) will be rejected by the future generations. The only real solution of the Palestinian question lies in the return of the Palestinian people to their fatherland.

= Nos voleurs!
Il y a des problèmes extrêmes où nous nous debattons et que nous avons trop tardé à regarder en face. A la différence des pays occidentaux, nos "pays musulmans" ne connaissent que peu de hold-up de banques. C'est que les voleurs d'envergure savent qu'aujourd'hui, dans nos pays, la source d'enrichissement la plus sûre, la plus rapide, la seule à vrai dire, est le pouvoir. À titre d´exemple : le systeme féodal (makhzen) - qui n´a rien à voir avec l´Islam - que Hassan II a pérpétué anachroniquement au Maroc en plein XXe siècle - fait de la corruption généralisée un systhème de gouvernement.

Le régime de Hassan II constitue, pour notre pays, pour notre peuple et pour notre avenir un danger mortel réel. Face à ce danger et à son défi, il n y a, devant nous, qu´une seule alternative et une seule réponse: une révolution islamique radicale, éclairée, intelligente, tolérante et liberatrce!
En Islam, la liberté est la régle et l´interdit est l´exception.
Il s´impose donc urgence et nécessité vitale de créer un Front Islamique uni pour la Liberation du Maroc.
Les grands ne sont grands que parce que nous sommes à genoux. Levons-nous!

Ahmed Rami,
fondateur
de RADIO ISLAM

Ahmed Rami, founder of the radio station: RADIO ISLAM
---
HOME
---
In Swedish
---
Finns det faktaböcker på svenska?
---
Ja! Ahmed Ramis böcker:

---
---