Source:
http://guardian.150m.com/holocaust/why-believe.htm
by way of
seekingtruthnews
So, why do people believe in the holocaust?



Most people have been shown the film footage taken by American/British propaganda teams who accompanied troops as they liberated the Bergen, Belsen, Buchenwald, and Dachau, concentration camps.

The footage, especially from the Belsen camp, features large numbers of emaciated prisoners and corpses.

At this point, nearly everyone is deliberately (mis)led to the (false) conclusion that Jews were exterminated by gas chambers.

That this conclusion is false, is clear, if you are aware of the universally agreed fact, that there were no extermination camps in Germany. Even the extremist, Simon Wiesenthal, admitted this (in a letter to the respected British periodical Books and Bookmen, April 1975, p5, where he says "there were no extermination camps on German soil..."). No historian, Jew or otherwise, any longer claims that there were extermination camps in Germany (the Jew historians still claim that there were extermination camps, but now they claim that they were all located in Poland).

In particular, this means that there was no genocide, and no gas-chambers, at the camps Bergen, Belsen, Buchenwald or Dachau (as these camps were in Germany).

So, the above mentioned film footage from these German camps cannot be evidence for genocide, because, according to ALL the historians, there were no extermination camps in Germany

Clearly then, this US film footage DOES NOT, and NEVER DID, prove genocide of Jews.

So, the emaciated prisoners and corpses shown in the US film footage, had to have some other cause, or causes.

In fact, the other causes have long been known, but hidden by the Jews. Generally, the Germans managed to adequately feed the prisoners of the concentration camps, even with the transport system under sustained attack. Many photos are available which show thousands of reasonably well-fed prisoners. For example, this photo from Dachau (taken on liberation):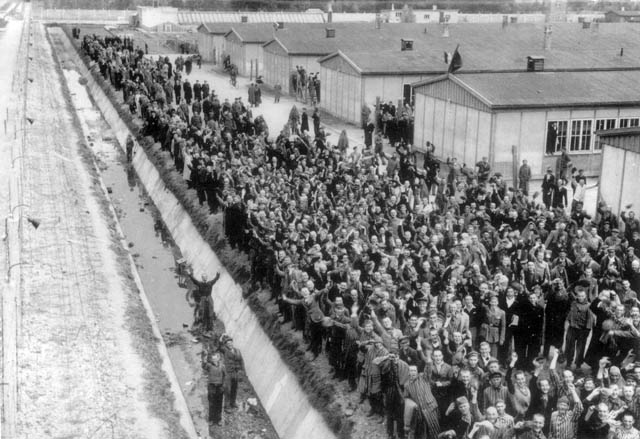 Or, this photo from Buchenwald (taken on liberation).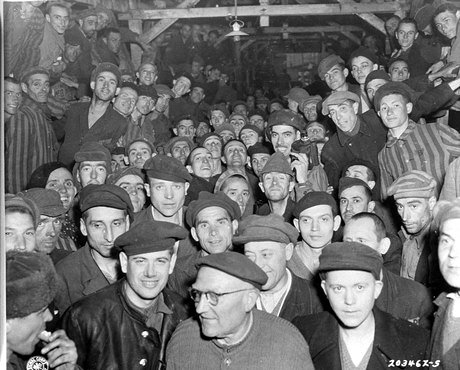 Or, this photo from Birkenau (Auschwitz) taken on liberation.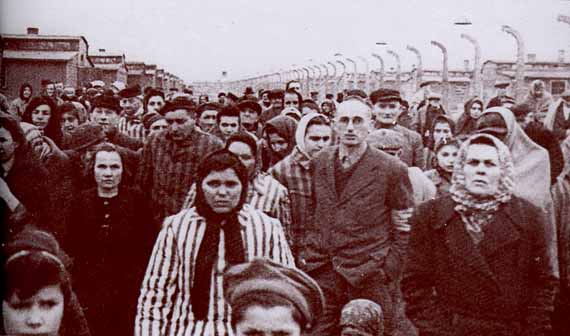 What actually happened, was that procedures aimed at holding various diseases in check, broke down under the pressures of war. The main killer, was Typhus. Typhus is spread by lice. Zyklon-B was an insecticide used to kill the lice that spread Typhus. The Typhus epidemics that raged through the camps (in both the first and second world wars) killed many thousands. If you suffer from Typhus, your body wastes away and you look as if you are starving to death. Typhus, is the reason for most of the severely emaciated prisoners and corpses.

Typhus, explains the mixture of severely emaciated prisoners and healthy prisoners. Those who caught the disease, became severely emaciated, and often died, those who didn't, remained reasonably healthy prisoners.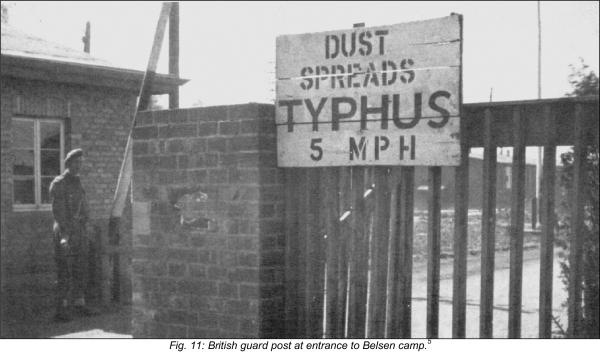 British guard post at entrance to Belsen camp.
A political prisoner at Belsen, stated:
"Towards the end of February 1945 my own situation changed completely.

By that time typhus had become a serious danger for the whole camp. It was the species of typhus which is transmitted by lice. At one time all the transports which arrived at Belsen had had to pass through a "human laundry" and this disinfection seems to have been effective enough to keep the camp free from lice until the autumn of 1944.

At the end of October a big transport had, for the first time, been admitted to the camp without being disinfected, because there had been some damage to the machinery of the shower-baths. Unfortunately the people of this transport were louse carriers, and from that day the lice gradually spread over the whole camp. [...] Typhus broke out in Camp I about the end of January. At first there were only a few cases, but a month later a dozen had appeared, and it became impossible to check the disease [...]."
From "Belsen Uncovered," Duckworth, London, 1946, by Derrick Sington, pages 117-118.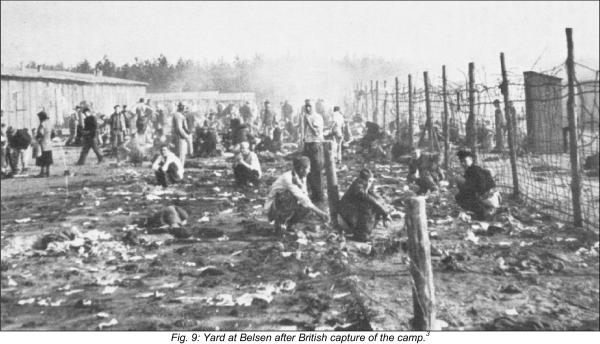 Yard at Belsen after British capture of the camp.



Of course, this unchecked Typhus epidemic, meant that the death rate at Belsen, was very high, and that there were plenty of emaciated prisoners and corpses to film, in order to feed the lie, that Jews had been systematically exterminated.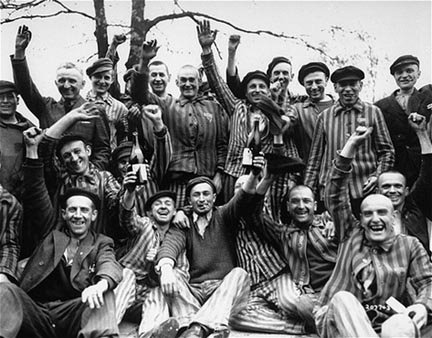 A few more reasonably well-fed Dachau inmates (photo taken on liberation).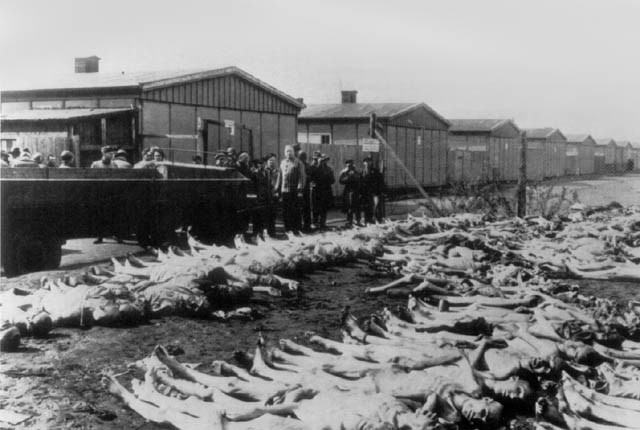 And, some emaciated corpses at Dachau (photo taken on liberation).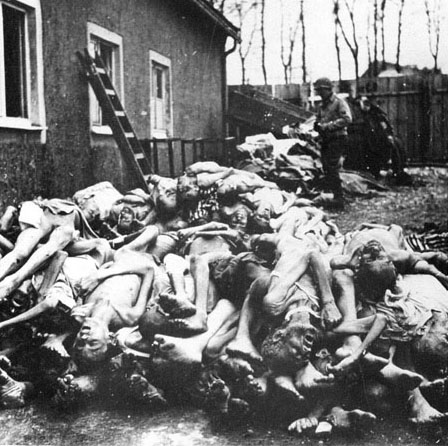 Some emaciated corpses at Buchenwald (photo taken on liberation). This should be compared to the reasonably well-fed Buchenwald prisoners, pictured above.

Further Reading
:
1. Wiesenthal Re-Confirms: 'No Extermination Camps on German Soil'