The Internet

The Internet is the new front in the war against the Jewish propaganda and disinformation. Sites like Radio Islam, IHR (Institute for Historical Review) spread facts that the Zionists try to hide, and that to a wide and steadily growing audience. In panic - seeing their lies exposed - the Jews use dirty means like sabotaging web pages and threatening Internet providers. They also try to impose "hate" legislation and special computer filters against information that hurts their propaganda. They also organize - via Israel's government - Jewish groups all over the world to monitor and control information in Wikipedia and YouTube.
Apart from that many of the main instruments of Internet usage are in the hands of dedicated Zionist Jews like Google (Sergey Brin, Larry Page), YouTube (Susan Wojcicki), Facebook (Mark Zuckerberg, Sheryl Sandberg, Dustin Moskovitz) Yahoo! (formerly Terry Semel, Michael Isikoff), MySpace (Tom Anderson, Richard Rosenblatt, Travis Katz), Wikipedia (Jimmy Wales, Larry Sanger, senior editor David Miller aka Shankbone), eBay (Jeff Skoll).
The Jews have also organized special sites like MEMRI and the SITE-institute to propagate Israeli propaganda and to generate hatred by Westerners against Muslims and Arabs. The scope of this Jewish effort was clearly seen during and immediately after the 2008-2009 murderous assault on the Palestinians in Gaza.



Google's Brin at Western Wall, 2008

The Jewish hand behind Internet - a unique document!
The Jews behind Google, Facebook, Wikipedia, Yahoo!, MySpace, eBay...


Jews and the Computer World
From the Jewish Tribal Review site


Who Controls Social Media?
From "Jewish Influence in America". Updated 2017. Names, positions, pictures...


Israel's tech war
Israel has more startups than anywhere outside of Silicon Valley. What's fueling the Internet boom? Soldiers, officers, code-breakers, and spies


Israel's Internet Censorship War - How the Jews Censor the Internet - a must see and spread!
Original video, from the If Americans Knew channel, censored by the Jews of YouTube.
Reveals in detail the Jewish State's manipulations; a Hasbara pushing, Zio-troll army run by Israeli military's New Media Desk, National Union of Israeli Students, Camera, Israel's NGO Monitor, Israeli software application ACT.il, Israeli military's spy branch Unit 8200. Video also details the cooperation between Google/YouTube and Facebook with the Israeli Government and pro-Israel group ADL.
Alternative copies: here and here


Benjamin Netanyahu's Plan to Rule the World
"Israeli technology is driving the World!" Revealing video on the growing Jewish-Israeli control of Cybertech, compiled by Know More News.


The Controllers






I control what you read!




Sergey Brin, Google





I control what you watch!




Susan Wojcicki, YouTube





I control what you know!




Jimmy Wales, Wikipedia





I control your "friends"!




Mark Zuckerberg, Facebook





I control what you listen!




Lyor Cohen, YouTube Music





I control what you buy!




Jeff Bezos, Amazon





I control your "intelligence"!




Sam Altman, OpenAI



Alternative versions, if the video has been deleted by the Enemy: here and here


Sergey Brin: the Google revolutionary
Article from the Jewish Moment Magazine reprinted in The Jewish Chronicle


ADL Praises Google for Responding to Concerns About Rankings of Hate Sites
Includes letter from Google Jew Sergey Brin and Google's explantion for the word "Jew"


How the Zionist Organization of America shapes Google's policies
ZOA complains about "anti-Semitism" ...and Google adjusts promptly


ZOA Convinces Google to Change the Earth
The Zionist Organization of America changes the way we view the World through Google Earth


Google's war on pro-Palestinian bloggers
Google's "robots" unmasked, Is Google ethnic cleansing the Internet?

Uruknet cut off from Google News again! - external link
Information on how an Iraq war information site is being censored by Google


Jew Gotta' Friend At Google - what is "hate speech"?
Google News stops indexing what it calls "hate spech"


"Google This"! - on Google's Israel rush
By Philip Jones, Rense.com


Google Fascists?
Looking into the worrying implications of Google's near monopoly of web search engines


Censorship of the Internet - study reveals Google censorship of Radio Islam's sites
By Germar Rudolf


Jewish terrorism against Internet!
The campaigns against Radio Islam


Internet, Rami, ADL and the U.S. Senate
The Jewish "ADL" has developed a filter (ADL HateFilter™) that blocks access to Radio Islam and to other Web sites that contain "inappropriate" material!


Spy vs Spite
The Clinton administration has praised the Anti-Defamation League for helping shield kids from Internet hate. But should a group that spied on thousands of Californians be allowed to police the Web?


Revealed: The Former Israeli Spies Working in Top Jobs at Google, Facebook and Microsoft
MintPressNews study, October 31, 2022.


How the Jews Censor the Internet

Collection of articles on the Israeli "Pegasus" Global spyware scandal
From MintPressNews


The Spy in Your Phone
Al Jazeera English,

January 6, 2021

.
On Israel's Pegasus spyware and the obscure NSO Group developing it. The investigation exposes how Pegasus works and how pro-Israel Arab governments like Saudi Arabia and the UAE use it against their political opponents.


NSA shares raw intelligence including Americans' data with Israel
By Glenn Greenwald, Laura Poitras and Ewen MacAskill


NSA shares raw intelligence including Americans' data with Israel
The Guardian, by Glenn Greenwald, Laura Poitras and Ewen MacAskill. Secret deal places no legal limits on use of data by Israelis.


The Guardian on the Jews behind Facebook
Guardian article that gives some idea about the people behind Facebook, including the Jewish moneyman Peter Thiel


Jewish Internet Defense Force 'seizes control' of anti-Israel Facebook group
Article from The Jerusalem Post


A pro-Israel group's plan to rewrite history on Wikipedia
CAMERA orchestrating a secret, long-term campaign to infiltrate the popular online encyclopedia


Israel setting up "covert units" to tweet, Facebook government propaganda
From the Electronic Intifada


Prime Minister's Office recruiting students to wage online hasbara battles
Israel wants to pay Jewish students to post pro-Israel messages on Facebook and Twitter.


Photo Editing Israel's Online Image
Israel's government invites Wikipedia editor Shankbone to help with pro-Israelization of Wikipedia


Wikipedia joins the "censor game"
Example on how Jewish Internet activists work to delete information they dislike


Now It Is Official: Israeli Campaign to Control Wikipedia Content
By Richard Edmondson. June 16, 2014.


Online Censorship by Israel - What do BLOGGER, YOUTUBE, FACEBOOK, and WIKIPEDIA have in common?
By Irish4Palestine, 21/02/2009


Foreign Ministry out to "conquer" internet
Article from Israeli YNet site on a Israeli government photo offensive on Wikipedia, Wikimedia, Facebook, Twitter and Flickr


Special spin body gets media on message, says Israel
Article from The Guardian on the new Israeli spin body: National Information Directorate


Giyus - Instrument for Israeli Internet manipulations - Israel's Foreign Ministry's Megaphone desktop tool transforms Jews from all over the World into Zionist cyber warriors
A collection of articles on this subject


That commenter on your blog may actually be working for the Israeli government
Israeli-paid talkbackers are now being used


Cyberwar against Palestine
Articles on Jewish computer tools designed to silence so called "pro-Hamas" websites


On Jewish Students Hasbara Handbook
Includes revealing excerpts from this Jewish propaganda handbook - a must read!


Hasbara spam alert - The hasbara brigade strikes again!
Article from The Guardian on Israel's Foreign Ministry organizing Jewish volunteers to flood news websites with pro-Israeli comments - the world of Propaganda 2.0.


Online battle for Israel's hasbara
By Eyal Lehmann, Israeli news site YNetNews, September 19, 2013


Zio-Web - supporting Jewish Apartheid via the Web
Jewish group for pro-Israel activism on the Net


Who Runs the Internet?
Revealing video compiled by Know More News.


Jewish ADL (Anti-Defamation League) works with Google, YouTube and Facebook to use A.I. Algorithms to censor "Anti-Semitic Conspiracy Theories"
ADL chief Jonathan Greenblatt revealed in a February 26 2019 panel hosted by the Council on Foreign Relations:


"So we work with Google on using AI to try to interrupt cyberhate before it happens. We work with YouTube to have—to get them to change their algorithms, so it lessens the likelihood that a young person's going to run into some of these anti-Semitic conspiratorial videos. We work with Facebook on trying to use a redirect method, so when you search for Holocaust as a hoax, you get directed to, like, Yad Vashem page. So there are different ways they can tweak their algorithms and adjust their products, so they think not only about free speech—not only protect the user's right to free speech but protect the user's right to not be harassed or hated."
(See full transcript)


Are social media giants censoring pro-Palestine voices amid Israel's war?
In the wake of the 2023 Gaza "War" (=slaughter). From the US to Europe to India, users and activists say the world's largest social media platforms are curtailing the reach of content critical of Israel. By Priyanka Shankar, Pranav Dixit and Usaid Siddiqui, Al Jazeera English, .
Note by Radio Islam: Al Jazeera's journalists don't dare to mention the reason for this censorship; Jewish Internet Hegemony!


MEMRI is 'propaganda machine,' expert says
By Lawrence Swaim, InFocus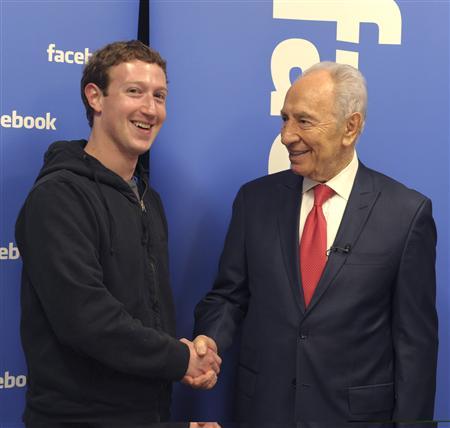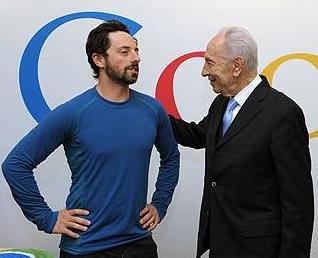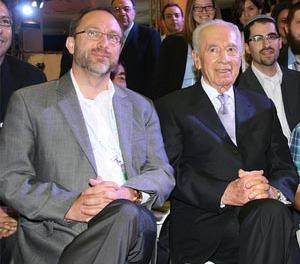 Israeli President and War Criminal Shimon Peres together with Facebook's Zuckerberg, Google's Brin, Wikipedia's Wales.