Interviews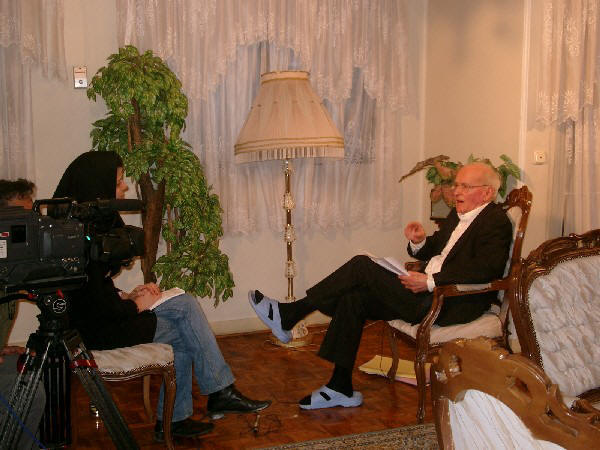 Professor Robert Faurisson interviewed
by Iran Television, 11-12-2006
The General Remer interview on the Jewish Power Order
Interview with the famous German WW II war hero General Otto Ernst Remer.
By Ahmed Rami for Egypt's Al-Shaab newspaper.


"I don't want my children to be slaves of the Jews"
Radio Islam's inteview with the Russian Colonel Yevgeny Shchekatikhin.


Holocaust: A gigantic swindle!
Interview given by Professor Faurisson to the Algerian daily Echorouk.


Interview with Professor Robert Faurisson at the Guest House of the Ministry of Foreign Affairs of the Islamic Republic of Iran
Tehran, December 13, 2006.


Ahmed Rami's interview with Robert Faurisson 1
Radio Islam, April 14, 1991. Faurisson responds to seven questions about Holocaust revisionism.


Ahmed Rami's interview with Robert Faurisson 2
Radio Islam, May 14, 1992. Faurisson comments on the latest revisionist news, the Jewish campaigns to silence revisionists and the situation for his host Ahmed Rami, of Radio Islam.


Revisionism from the Orient
Joachim Gross interviews Ahmed Rami, the founder of Radio Islam.


Ahmed Rami: A combat with unequal weapons
Interview with Rami published in Maroc-Hebdo International, a Moroccan weekly.


Interview with anti-Zionist veteran Ahmed Rami of Radio Islam
On ISIS, "Neo-Nazis", Syria, Judaism, Islam, Russia...


We must stand with Syria against the Zionists
Interview with Ahmed Rami of Radio Islam


Ahmed Rami's interview with Karl Philipp, Tomas Morton, Ted O'Keefe, Mark Weber, Manfred Koch, Pablo Palacios, Manfred Latting


Ahmed Rami interviews M. Weber, T. Marcellus, Ted O'Keefe...
On Revisionism and Jewish power in USA


Excerpts from an interview with David Duke
"The way to prove me wrong is to reason with facts and data, not to cut me off."


Swiss revisionist Jürgen Graf interviewed by Radio Islam
Transcript of a broadcast by Radio Islam in Stockholm on June 16, 1996.


Ex-Mossad agent speaks out
Interview with Victor Ostrovsky


The Hidden Tyranny
The most revealing and shocking interview of a Jew. "Most Jews do not like to admit it, but our god is Lucifer."


Hezbollah's newspaper interviews the Swedish writer Jan Myrdal
Interview with the famous Swedish author in Hezbollah's Al Intiqad


On Israel's Gaza massacres
Two interviews with Norman Finkelstein.


A Conversation with Dr. Ibrahim Alloush
From The Journal for Historical Review. Interview with the Jordanian revisionist Ibrahim Alloush.


Interview with Professor Abdullah Mohammad Sindi
Where he says there was no such a thing as the "holocaust" and argues that it is in fact Israel which has created a real holocaust for Palestinians.


"I am a free man and I intend to stay that way" - (interview with Alain Ménargues)
How the vice-director of Radio France International was dismissed from his functions becuse he criticized Israel's Apartheid Wall


NBC interviews Min. Farrakhan
Excerpts from the famous interview with Farrakhan, aired on April 13, 1997


David Irving broadcasts to Australia about the arrest of Fredrick Toben
Transcript of a telephone conversation, Friday, April 9, 1999


Interview with Swedish Anti-Zionist writer and revisionist Lars Adelskogh
"Under Judeocracy you do not have the right to free speech. You do not even have the right to free listening."


The Jewish Mafia (PDF)
In the following interview, French reseacher Hervé Ryssen talks about his book La Mafia juive (The Jewish Mafia).


The Eschatologic War (PDF)
Hevé Ryssen. Interview by Margaret Huffstickler in Paris for The Barnes Review magazine.


The Religious Origins of Globalism (PDF)
An Interview with Hervé Ryssen.



---

Other misc. sections