The Americas



Any addressing of Jewish political empowerment in Latin America must inevitably consider the implications following 1998 observations by professor Judith Elkin, whose specialty is the Jews of Latin America:

"Following formation of the state of Israel, Yiddish was replaced by Hebrew in most Jewish schools, and Israel became the preferred locus for teacher training. Financial subsidies for Latin American schools were allocated by the World Zionist Organization and the Jewish Agency. Zionism conquered the schools on the way to conquering the [Jewish] communities as a whole ... [Judith Laikin Elkin in "The Jews of Latin America", 1998, p. 176]
... Organized Jewish life came to revolve around Zionist activities:
the sale of Israel Bonds, celebration of Israel Independence Day, the training and hiring of Hebrew teachers, and so forth ... Jews living in Latin America are occasionally able to apply political leverage in support of the government of Israel ... The close relationship between Latin American Jews and Israelis sustain the suspicion among nacionalistas that Jews' extraterritorial loyalties exceed the bounds of patriotic propriety. The accusation of double loyalty dogged the communities from the start, and continues today." [Judith Laikin Elkin in "The Jews of Latin America", 1998, p. 232-233]



Israel in Latin America
By Mazin B. Qumsiyeh


Israel's Role in Worldwide Repression
By The International Jewish Anti-Zionist Network, 2012.


Israel, the CIA, Central America, and Dictatorships
Selection from the book Dangerous Liaison, 1991 by Andrew & Leslie Cockburn.
"In Central America, Israel is the 'dirty work' contractor for the U.S." -- Israeli General Matityahu Peled.


Listado de Judíos famosos y influyentes en Latinoamérica y España
Document in Spanish that lists the names of influent Jews in Argentina, Mexico, Peru, Chile, Uruguay, Colombia and Spain.


Canada's pro-Jewish, pro-Israeli Prime Minister Stephen Harper, sends Canada's young men to die in the struggle for Zion in far-away Afghanistan, while he is deeply involved in the Jewish mafia. In December 2008, the Conference of Presidents of Major American Jewish Organizations presented Stephen Harper, and his government as a whole, with its inaugural International Leadership Award for his support for Israel.
In Canada, while comprising under 1% of the national population, by 1981 "both Jewish men and Jewish women tend to be concentrated at the top of the occupational hierarchy." In a 1986 Toronto Life list of the most influential people in Toronto, "almost one in four was Jewish." [TROPER, p. 40]


Canadian Jew Israel Asper with his media empire.
Another example of Jewish oppression in Canada
In 1988, yet another Jewish business mogul family - Canada's Reichmanns - at the time owners of the largest real estate empire on earth, sought to censor the truth about their past. The (Montreal) Gazette (February 1, 1997) noted that:
"These are dangerous waters for any journalist. In 1988, Toronto Life magazine was hit with a $102 million libel suit for publishing an article by freelance writer Elaine Dewar which investigates [patriarch] Samuel Reichmann's murky past as an egg dealer in pre-war Austria and then as a currency speculator in wartime Tangiers. Toronto Life's eventual apology and out-of-court settlement suggested that 'libel chill' can be an effective deterrent for any wealthy family seeking to keep a curtain of privacy around itself."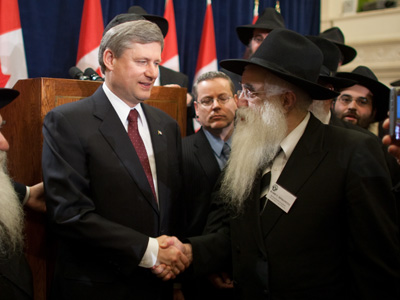 Canada's Prime Minister Stephen Harper with his Jewish pals.
Although "over the decades" the Jews of Argentina "established themselves as one of the nation's most affluent communities," with the controversial collapse of two Jewish-owned banks under charges of corruption, $28 million in Jewish "communal assets were lost overnight." [JORDAN, M., 6-28-2001]
Among the prominent Jews of Argentina is the Wertheim family, owners of Banco Mercantil Argentino, ISA Fabrica ("the largest woolen mill in Latin America"), Argentina's "biggest television manufacturer," as well as companies involved in fruit, fashion and cattle. A Zionist activist, Julio Wertheim has also invested in Israeli companies. [SACHAR, H., 1985, p. 286-288]
In Colombia, Ernesto Corescos, a Jewish entrepreneur, founded the Colombian airline (totally called Avianca). [SACHAR, H., 1985, p. 267] (Jewish Money and Economic Influence: the Historical Context)

"Several members of [dictator Fulgencio] Batista's government from 1952 to 1958 were close to local Jews." [LEVINE, p. 211] Among those was Jewish mobster Meyer Lansky, who built his own resort hotel, the Rivera, in Cuba, "the largest casino hotel in the world outside Las Vegas." [LEVINE, p. 203] Among American Jewish industrialists, developers, financiers, and department store owners in the area, Jacob Branden was knighted by Batista, the Habif family owned the largest perfume factory, and Philip Rosenberg was head of one of the largest Cuban sugar plantations, the General Sugar Corporation. 
Israeli Cultivation of Cuba Reflects Contempt for U.S. Policies
By Israel Shahak (Washington Report 01/1994)


Secret aliyah from the Caribbean
Article from Ha'aretz. The Mossad and the Jewish Agency, not Fidel Castro, were responsible for preventing news coverage of the campaign to bring Cuban Jews to Israel.

The
Jewish Daily Forward
(January 4, 2013) writes:
"
[...]
Panama is also the only country outside of Israel to have had two Jewish presidents in the 20th century: Max Shalom Delvalle, in 1969, and Eric Delvalle Maduro, from 1987-1988."
Across the world, in Panama, by the 1980s, under the dictatorship of Manuel Noreiga, "the Jewish community as a whole, many of whose ancestors had arrived as Syrian traders at the turn of the century, was exceedingly rich".



Panama's Medias
In Panama, the largest newspaper, La Prensa, is owned by Jewish mogul Robert Eisenmann.
Jewish Money and Economic Influence: the Historical Context
Includes information on the influence of the Jews in Nicaragua:
"... most of Nicaragua's handful of pre- [Sandanista] revolution Jews had close ties to the [former] dictator, Anastasio Somoza".


Israel in Latin America
By Mazin B. Qumsiyeh. "...Israeli arms sales to the Somoza regime likewise received an important boost from the Carter administration's policy [...] Israeli weapons had become critical to the regime's survival"


"Sam the Banana Man" Zemurray, a Bessarabian Jewish immigrant, made millions of dollars in his Cuyamel Fruit company, and by the 1930s was "the major shareholder in the largest banana company in Central America" (United Fruit -- later called United Brands).


Jewish Money and Economic Influence: the Historical Context
Includes information on the economic power of the Jews in Costa Rica:
In Costa Rica, the Jewish community built their economic power in clothing manufacture and sales. "Jewish men and women of letters have occupied leading positions [in universities] since the early 1970s." [GUDMUNDSON, p. 229] 


In Venezuela, Jewish "Marrano" refugees from Portugal "intermarried and were numbered eventually among Venezuela's most aristocratic families." [SACHAR, H., 1985, p. 266] By the mid-1980s, among the 17,000 Venezuelan Jews (living mostly in Caracas) were 350 factory-owners.


This is a Zionist community," noted Fiszel Czeresnia, chairman of Brazil's Zionist Organization, in 1985, "Zionism animated every Jewish institution we have in this country." (See Howard Sachar, "Diaspora. An Inquiry into the Contemporary Jewish World", 1985, p. 262)
By 1974-75 Jamaican Jews amounted to only .025% of that country's population, but accounted for 24% of the national entrepreneurial elite "as measured by the number of Stock Exchange company boards they served on as directors and chairmen ... By 1978 ... six of the 14 most active national entrepreneurs were Jewish." [HOLZBERG, p. 118]


Even in Jamaica, that country's most prominent newspaper -- the Gleaner -- is most publicly associated with the Ashenheim family. [HOLZBERG, p. 146] See source.
"... As one rabbi told me, Curacaoan Jews have long been the 'Brahmins' of their little island. There is no 'community outside Israel where Jews [have] occupied that status in society,' the rabbi said ... The Jews are deeply entrenched in the island's business elite. Jews own the island's main bank, Maduro & Curiel's."
Peru, a country with a large Indian population, has no-representative governments and as a travesty of "democracy" has instead an imposed "judeocracy" with two Jewish Prime Ministers in modern days, Yehude Simon and Efrain Goldenberg.
President Alejandro Toledo even had a Jewish second vice-president, David Waisman, and an Israeli personal security chief, Avi Danon.
And Pesident Toledo´s wife is a Jewess from a Zionist family (see our article on political power below):
In 2001, Alejandro Toledo was elected President of Peru and Elaine Karp became Peru's First Lady. Karp was "born in Paris to a staunchly Zionist family [and] settled in Israel as a teenager ... Her father was a member of the right wing Zionist youth group, Betar, while her mother belonged to the left-wing Zionist youth group Hashomer Hatza'ir."

Peruvian medias
In Peru, preeminent media mogul Baruch Ivcher is an immigrant from Israel and owns the country's largest television station. In 1997, during political troubles with the government for a series of television exposes, Ivcher lived in Miami and Israel. His minority partners in the station, also Jewish, ran the company in his stead. [FORWARD, 11-7-1997, p. 3] 
See source.
"Marranos [the Spanish and Portuguese Jews who faked, en masse, conversion to Christianity] figured prominently [in Chile] among the early conquistadors and Jewish converts of the sixteenth century. Gunther Bohm's volume, Chilean Jews in the Colonial Period, published by the National Academy, lists 150 names of Marrano origin currently borne by aristocratic Chilean families." [SACHAR, H., 1985, p. 275]
Immigrant Jews "rapidly achieved their characteristic eminence in commerce and played a major role in the establishment of Chilean light industry." [SACHAR, H., 1985, p. 275]
Even in a place like Guyana, in South America, Janet (Rosenberg) Jagan, who was born in Chicago and had married a prominent Guyanan, became that country's President in 1998.


There are only 44,000 Jews living in

Uruguay

, but

:
<![if !supportEmptyParas]> <![endif]>
"in recent decades, there have been Jewish senators, ministers and deputy ministers, directors of the Central Bank and the central tax collection office, a rector of the university. Uruguay was the first Latin American government to recognize Israel ... The single lingering consequence of these political changes [a Uruguayan army coups] has been an intensification of Uruguayan Jewry's Zionist commitment ... Leaders of the Jewish institutions [in Uruguay] dutifully consult the Israeli ambassador -- their status symbol -- on matters not only related to Israel but to domestic Jewish affairs ... Jewish education, both the day schools, and in some eleven Sunday schools, has remained Israel-centered."
(Howard Sachar, Jewish author, in "Diaspora. An Inquiry into the Contemporary Jewish World", 1985

, p. 273

)




Israel in Latin America
By Mazin B. Qumsiyeh: Guatemala and Uruguay, especially, made significant contributions to advancing the Zionist cause at the United Nations Session on Palestine.
In Bolivia, a country that had less than 500 Jews in the whole country in 1987, "publisher and book dealer Werner Guttentag [is] a major presence on the national cultural scene." (Judith Laikin Elkin, "The Jews of Latin America", 1998, p. 127)
Israel in Latin America
By Mazin B. Qumsiyeh:
- Guatemala and Uruguay, especially, made significant contributions to advancing the Zionist cause at the United Nations Session on Palestine.
- Professor Israel Shahak, then chair of the Israeli League for Human and Civil Rights, stated in a lecture in New York October 1985: "All weapons or practically all weapons of the Guatemalan Army are made in Israel... ". Israel is "training the Guatemalan secret police and helping it, the so-called death squads".


Israel: Death Squads
Israeli Knesset member General Peled said in Central America Israel is 'dirty work' contractor for U.S.
Israel behind computer system making up death lists: Israeli firm Tadiran (then partly U.S.-owned) supplied Guatemalan military with computerized intelligence system to track potential subversives. Those on computer list had an excellent chance of being "disappeared."



Please see our separate special section on the U.S.

---
More on Jewish power / Israeli influence in the World: