The Jewish Israel Lobby in the U.S.
click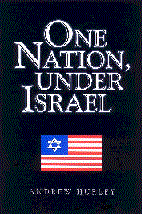 "One Nation, Under Israel"
by Andrew Hurley, 1999.
Reviewed by Richard Curtiss
AIPAC (American Israel Public Affairs Committee) is Israel's main lobby in the U.S. There are about 126 other political action committees (PAC), listed under deceptive names to hide their actual purpose, that can be mobilized at any time to rain money on any congressman ousting his disobedient opponent who dared criticize any aspect of U.S.-Israeli relationship. No wonder AIPAC is referred to on the Capitol Hill as "The Lobby". Many congressmen (now all ex's), such as the late Fullbright, Findley, and Percy, felt its power when daring to mildly criticize U.S.-Israeli relationship. Such criticism would also induce the wrath of the numerous pro-Israel columnists around the nation's major newspapers, such the New York Times' Safire, A.M. Rosenthal and the more subtle Thomas Friedman, the Washington Post's Charles Krauthammer and George Will, the Boston Globe's Jeff Jacoby, or the New Republic's Martin Peretz and Steven Emerson.
Those who are in line with AIPAC's will --commonly seen prostituting themselves and their country for the sake of Jewish vote-- such as Gephardt, Forbes, Helms, Gilman, D'Amato, Moynihan, Harkin, Levin, Specter, Lieberman and Gingrich, are generously rewarded. All Netanyahu (or any Israeli leader) has to do is make up a catchy phrase, regardless of how false or out-of-context it may be, e.g. "Arafat is not keeping his promise of locking terrorists up" or that "the Palestinian Authority has not changed their charter which calls for Israel's destruction". Immediately following that the whole flock of these pro-Israel congressmen are seen parroting in unison the same statements over and over until a new is devised. It is sad to see the many policy makers of today having their own political gains in mind, rather than the good of their country and the world.


Other Jewish lobbies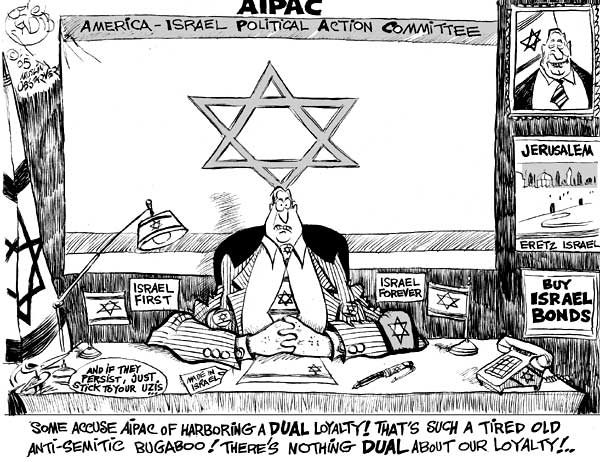 The Jewish lobby and the Iraq war
Presently the same Jewish lobby is active for boycott and war against Iran.



Quotes



We, the Jewish people, control America



"Every time we do something you tell me America will do this and will do that . . . I want to tell you something very clear: Don't worry about American pressure on Israel. We, the Jewish people, control America, and the Americans know it."
-- Israeli Prime Minister,
Ariel Sharon
, October 3, 2001.
"I've never seen a president --I don't care who he is-- stand up to them [the Israelis]. It just boggles your mind. They always get what they want. The Israelis know what's going on all the time. I got to the point where I wasn't writing anything down. If the American people understood what grip those people have on our government, they would rise up in arms. Our citizens don't have any idea what goes on."
-- Admiral Thomas Moorer of the Joint Chiefs of Staff. (See Washington Report 12/1999, p.124 quoting from Andrew Hurley's book, "One Nation Under Israel")

"... terrific control the Jews have over the news media and the barrage the Jews have built up on congressmen .... I am very much concerned over the fact that the Jewish influence here is completely dominating the scene and making it almost impossible to get congress to do anything they don't approve of. The Israeli embassy is practically dictating to the congress through influential Jewish people in the country"
-- Sec. of State John Foster Dulles in Feb. 1957 quoted on p.99 of Fallen Pillars by Donald Neff

"The Israeli Prime Minister has a lot more influence over the foreign policy of the United States in the Middle East than he has in his own country."
-- Former Congressman Paul Findley, in his book They Dare to Speak Out, p. 92.

"The Israelis control the policy in the congress and the senate ... somewhere around 80 percent of the senate of the United States is completely in support of Israel -- of anything Israel wants...."
-- Chairman Senator Fullbright, 10/07/1973 on CBS' "Face the Nation".

"We have exhausted our requests. President Clinton has answered all our needs. There has been no American president in history like President Clinton, in his support of Israel and the Jewish people."
-- Shimon Peres (From Washington Report, July 1996, pg. 17)


"President Clinton behaves like an obedient child of Israel and does not know how to say `No.'"
-- Nahum Barnea, Israeli writer (From Washington Report, July 1996, pg. 17)



"There is definitely an anti-Arab bias in America, and I regret it"
-- Peter Jennings cited in Alfred Lilienthal's 1982 Zionist Connections II, p.273, citing Edmund Ghareeb, The American Media and the Palestine Problem, Journal of Palestine Studies, Autumn 1975, Winter 1976.

"The Capitol Hill is an Israeli occupied territory".
-- Patrick Buchanan (St. Louis Dispatch, 10/20/1990).
"I am aware how almost impossible it is in this country to carry out a foreign policy [in the Middle East] not approved by the Jews. [Former Secretary of State George] Marshall and [former Defense Secretary James] Forrestral learned that"
-- Sec. of State John Foster Dulles in Feb. 1957 quoted on p.99 of Fallen Pillars by Donald Neff
"I know I was elected by the votes of American Jews. I owe them my victory. Tell me, is there something I ought to do?"
-- U.S. President John F. Kennedy speaking privately to Ben-Gurion (p.90 A & L Cockburn 1991).
"The little Knesset"
-- Sec. of state James Baker describing pro-Israel Congressmen, quoted in the Web Page of the Zionist Organization of America, which, in turn, quotes the Los Angeles Times (March 7, 1992)
"I do not think I ever had as much pressure and propaganda aimed at the White House as I had in this instance"
-- U.S. President Harry Truman writing in his memoirs about the Zionist pressure to support the partition of Palestine.
"But I believe that Israel has a powerful stranglehold on the American government. They control both members of the House, the House and the Senate. They have us involved in wars in which we have little or no interest.
Our children are coming back in body bags. Our nation is bankrupt over these wars. And if you open your mouth, you get targeted. And if they don't beat you at the poll, they'll put you in prison.
[...]
They're controlling much of our foreign policy. They're influencing much of our domestic policy.
Wolfowitz as undersecretary of defense manipulated President Bush number two back into Iraq. They've pushed definitely, definitely to try to get Bush before he left to move into Iran.
We're conducting the expansionist policy of Israel and everybody's afraid to say it. They control much of the media, they control much of the commerce of the country, and they control powerfully both bodies of the Congress. They own the Congress."
-- Former U.S. congressman James Traficant in Fox News, September 10th 2009.


---


Other sections on the U.S.: