European Union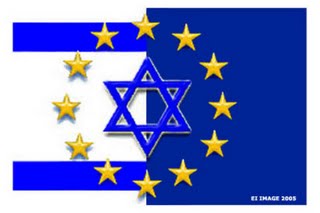 All talk that Hamas and Hezbollah are condemned by the EU as "terrorist" organizations is fake, as one penetrates the matter and sees from where derived the impetus for these "European" decisions. They are always not the result of conclusions drawn volontary by the EU after their own incitament, but something that is the end-result of a long process of systematic lobbying by Jewish Israel-affiliated organizations based in Europe. If it hadn't been for the labour of these Jewish organizations, these decisions by the EU would never have beeen introduced. For instance the Swedish Foreign Minister Carl Bildt, (for a country which in 2009 presides over the EU), has himself earlier publicly declared that there must be a political dialogue with Hamas in Gaza - but that was before the now-succesful Jewish campaign to isolate Hamas.
After the Gaza massacre 2008-2009 the Jewish infiltrated governments of France (Jews Sarkozy, Kouchner) and Britain (Jews Miliband, I. Lewis, Sir Cohen) are implementing a EU decision to aid in the Israeli blockade of Gaza.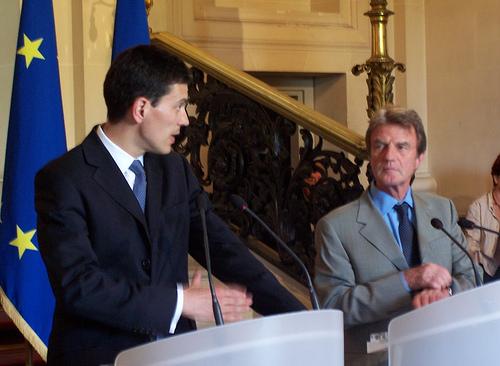 "British" Foreign Minister Miliband speaks to the "French"
Foreign Minister Kouchner - and both are Jewish!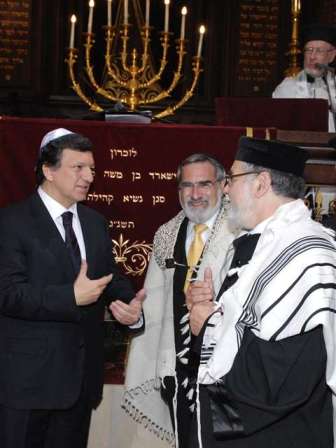 European Commission Chairman José Manuel Barroso, Chief Rabbi of Great Britain and the Commonwealth, Sir Jonathan Sacks and Brussels' Great Rabbi Albert Guigui. June, 2008.
Israel's EU upgrade
Editorial in the Jerusalem Post. The upgrade includes "an examination of possible Israeli integration into the European single market"."The upgrade is also welcome for the economic fruits it promises to bring to an already robust partnership" as "the EU is Israel's major partner".


Letter on the Upgrading of Relations EU-Israel
By Hiyam Noir, Palestine Free Voice, 6/04/2009


Europe colludes in Israeli trade scams
By Brian Whitaker, The Guardian. The EU bans trading with 'illegal' Jewish settlements, but accepts their goods under Israeli guise.


Europe irresolute over Israeli trade fraud
By Brian Whitaker, The Guardian


Meet Israel's European friends - Who are the fools that reward Israel's criminal behaviour?
By Stuart Littlewood, Redress information, 15 December 2008


European court: Israel boycotts are unlawful discrimination
The Jerusalem Post, July 20, 2009


Israel will nuke Europe. They've promised to.
From the Winston Smith Ministry of Truth Archive.
The Jewish "Thanks for helping us!"


The Kalergi Plan: Practical Idealism" by Coudenhove Kalergi - The Racist and Supremacist Roots of the Ideology behind the European Union
Europeans to become "Eurasian-Negroid" "mongrels", in contrast to "Europe's spiritual leader race the Jews..."
English translation of selections of "Practical Idealism" (Praktischer Idealismus). Count R. N. Courdenhove-Kalergi is seen by many as the father of the modern European Union.


Jews incite war between European Christians and Muslims - for Israel´s benefit (videos)
Rabbis now speak overtly...


Jewish-Zionist Control of European Right Wing Nationalist Political Parties
Highlights: Germany, France, Italy, Hungary, Austria, Belgium, Netherlands, Sweden, and the United Kingdom.


Israeli intellectuals: Europeans the enemy!
Israeli-born author to an Israeli public: "Your worst enemy today is not the Muslim world... your worst enemy is the European world!"


Rabbi explains how Jews "made a mint" off European wars and "back stabbed" their countries in the process
By Christians For Truth, January 5, 2022


More on Jews vs Europe - from the Winston Smith Ministry of Truth Archive:

1881: Rothschild bankers run Europe, and wars

Rothschild's puppet show: European monarchies

I'm the "head of the finances of Europe" - Rothschild

We will never forgive Europe's Christians - Rabbi Baruch Efrati

Commemorating the Destruction of Europe

Gentiles are scum - Anti-European tirade by Rabbi Dov Fischer:
"We remember that the food they eat is grown from soil fertilized by 2,000 years
of Jewish blood they have sprinkled onto it."


Caricatures/cartoons on Jewish/Zionist influence on EU and NATO
In 2001, a London Guardian reporter noted with outrage that Israel has blatantly "cheated and lied and abused the trust" it had in trade agreements with European nations. "No sooner had the ink dried on [Israeli minister] Shimon Peres's signature [to a Euro-Israeli trade pact]," notes Brian Whitaker,
"than Israel began to cheat. To imagine that this was due to a few bent officials in the customs department would be a mistake: cheating was built into the system and it was carried out with the blessing of the Israeli government ... In 1997, as a result of complaints, the European commission sent a delegation to Israel to find out why Brazilian orange juice arriving in Europe had been certified as Israeli in order to qualify for preferential rates. The problem, the delegation concluded, went way beyond orange juice: Israeli customs officials simply could not be trusted. The problem was so serious, their report said, that 'the validity of ALL preferential certificates issued by Israel, for ALL products,' was in doubt."
[Brian Whitaker, The Guardian, 30 April 2001] (see also our article on Jews and financial scandals)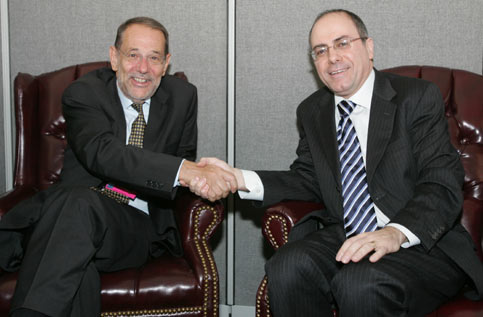 EU's Javier Solana with Israel's Foreign Minister Silvan Shalom.
All happy faces.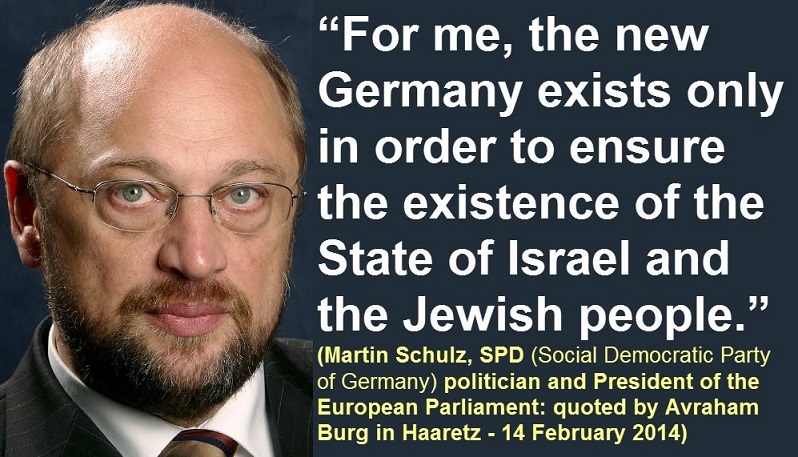 "For me, the new Germany exists only in order to ensure the existence of the State of Israel and the Jewish people."
- Martin Schulz, President of the European Parliament and leader of Germany's Social Democratic Party (SDP), to Israeli politician Avraham Burg,
as quoted in Israeli paper Ha'aretz, February 14, 2014
.
---
More on Jewish power / Israeli influence in the World: