Information on Radio Islam


This Site is owned by a group of Freedom Fighters from different countries in support of Ahmed Rami's Global struggle.

Radio Islam is working to promote better relations between the West and the Muslim World. Radio Islam is against racism of all forms, against all kinds of discrimination of people based on their colour of skin, faith or ethnical bakground. Consequently, Radio Islam is against Jewish racism towards non-Jews.

World Jewish Zionism, today, constitutes the last racist ideology still surviving and the Zionist's state of Israel, the last outpost of "Apartheid" in the World. Israel constitutes by its mere existence a complete defiance to all international laws, rules and principles, and the open racism manifested in the Jewish State is a violation of all ethics and morals known to Man.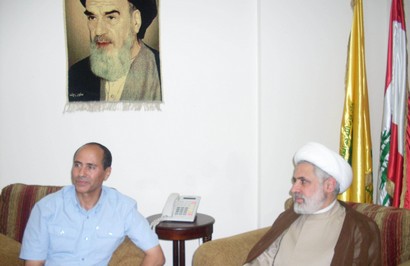 Ahmed Rami of Radio Islam with Hezbollah's Deputy Secretary General, Sheikh Naim Qassem.
More important information about Radio Islam
Radio Islam started out as a radio station broadcasting in Stockholm, Sweden in 1987, then turned into a multilingual website in 1996, and today is an international platform combatting Jewish supremacy - in 26 languages!


"Radio Islam: the mother of all anti-Jew sites"
Article from WorldNetDaily.com: "Although WND has run stories about Islamic websites in the past, none has the sophistication or depth of Radio Islam

.

"


Ahmed Rami: A combat with unequal weapons
Interview with Rami published in Maroc-Hebdo International, a Moroccan weekly


Interview with anti-Zionist veteran Ahmed Rami of Radio Islam
On ISIS, "Neo-Nazis", Syria, Judaism, Islam, Russia...


We must stand with Syria against the Zionists
Interview with Ahmed Rami


Revisionism from the Orient
Joachim Gross interviews Ahmed Rami, the founder of Radio Islam


Debate in Swedish Parliament on Radio Islam and Ahmed Rami
By Robert Faurisson


What was the Rami trial? Jan Bergman and Jan Hjärpe, Two Swedish Professors Defend Revisionism on Trial
By R. Clarence Lang


Video - Ahmed Rami speaks on Hezbollah's Al-Manar TV about the Jewish occupation of Palestine (with English subtitles)


Faurisson in Sweden - a must see video!
Produced by Radio Islam, 1992. Please save to harddrive and if you note that this crucial video has been deleted - upload again!


Ahmed Rami speaks at the 1990 Revisionist Conference on Radio Islam and the struggle against the Jewish mafia
Introduction by world renowned revisionist scholar Robert Faurisson, at the 10th IHR Revisionist Conference in 1990.
Ahmed Rami in English on the struggle of Radio Islam against the Jewish mafia. It is a struggle for the liberation of Palestine, but also for the liberation of the peoples in the West and the rest of the world from Jewish dictatorship.
Seeing this humble and sympathetic man speak, the Jewish vicious propaganda against him as some kind of psychotic "anti-Semitic" monster, crumbles!
Alternative video link: here





Ahmed Rami with General Otto Ernst Remer, German WWII hero and friend of the Islamic Nation, the man who made history in 1944, thwarting the coup against Adolf Hitler. Read "The General Remer Interview on the Jewish Power Order" to see the wisdom of this man, not allowing himself to get caught in the Jewish trap of a "Clash of Civilizations" between the West and Islam.



Robert Faurisson about Rami in jail
- and the lie of the alleged "holocaust"


Jewish terrorism against Internet!
The campaigns against Radio Islam


Internet, Rami, ADL and the U.S. Senate
The Jewish "ADL" has developed a filter (ADL HateFilter™) that blocks access to Radio Islam and to other Web sites that contain "inappropriate" material!


Censorship of the Internet - study reveals Google censorship of Radio Islam's sites
By Germar Rudolf


"Judaism created Zionism and not the other way round"
What is going on in Morocco... A letter to Radio Islam on Ahmed Rami´s TV appearance in Al-Jazeera.


Photos of friends of Radio Islam
Intellectuals, Muslim scholars, Freedom Fighters in the West.



Ahmed Rami: There will be no war of civilisations...
Excerpt from Ahmed Rami's speech at the Revisionist conference in Trieste, Italy, "Revisionism and Dignity of the Defeated Countries" (2001).


Ahmed Rami's interview with Karl Philipp, Tomas Morton, Ted O'Keefe, Mark Weber,
Manfred Koch, Pablo Palacios, Manfred Latting


Ahmed Rami interviews M. Weber, T. Marcellus, Ted O'Keefe...
On revisionism and Jewish power in the USA


The General Remer Interview on the Jewish Power Order
By Ahmed Rami for Egypt's Al-Shaab newspaper.




The world's foremost Revisionist scholar, Robert Faurisson, and Ahmed Rami of Radio Islam, visiting Dachau KZ camp.



Revisionist Activism in Sweden
The Journal of Historical Review, July/August 1998.


Widespread Holocaust Doubts in Sweden
The Journal of Historical Review, July/August 1998.
After Radio Islam's successful information campaigns the Swedish government - under Jewish pressure - reacts...


International Holocaust Summit of the Big Zionist Lies
"Approximately 46 delegations, among which those of more than 30 heads of State or of government, will take part in the "International Conference on the Holocaust" due to be held in Stockholm from the 27th of January, 2000.[...] Stockholm is generally considered to be the one of the world's most active centres of historical revisionism, thanks to "Radio Islam" and its founder and head Ahmed Rami, a Swedish citizen originally from Morocco."


Who was behind the "Danish" cartoons?
By Ahmed Rami


Islam and Revolution
By Ahmed Rami


Islam and the Islamic world - What is Islam?
By Ahmed Rami


Morocco and the Revolution
By Ahmed Rami


Ahmed Rami of Radio Islam on the assassination of General Dlimi in Morocco and the connection to the CIA
Excerpt from William Blum's epic book on covert CIA operations and United States military interventions during the second half of the 20th century: "Killing Hope: U.S. Military and C.I.A. Interventions since World War II"
Ahmed Rami, founder of Radio Islam, reveals information on the assassination of Moroccan General Ahmed Dlimi, by the corrupt Moroccan King Hassan II - with the collusion of the CIA.


The Encyclopedia of Radio Islam
The much disputed encyclopedia on Zionism, Judaism, that enrages the Jews.


Ahmed Rami of Radio Islam with Roger Garaudy, prominent French Muslim philosopher and writer, former Deputy Speaker of the French National Assembly, author of "The Founding Myths of Israeli Politics".