Judaism +
Zionism +
Israel = Jewish Apartheid
-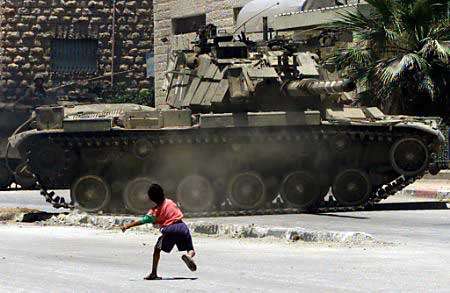 Zionism and the Palestine Question
Information about the ongoing Zionist war waged against the peoples of Palestine and the Middle East, and Zionism's totalitarian and racist backgrounds.
• Zionism - Basic introductory documents

• Zionism's historical roots

• Zionism's and Israel's Apartheid and Racism

• Intra-Jewish Discrimination and Violence

• Zionist-Nazi Alliance, Anti-Semitism, and the "holocaust"

• Politicizing the "holocaust"

• "Importing"Jews, even if they weren't Jews

• Labor vs Likud: No Difference in Actions

• Cartoons/caricatures on Zionism and the Jewish occupation of Palestine

• Historical Documents and Chronologies

• ZIONISM PT. 2: Zionist Strategies, Nukes/WMDs, Israel's Wars, Birth Myths, Nakba, Ethnic Cleansing, Expansionism...
Basic introductory documents on Zionism
"Why should the Arabs make peace? If I was an Arab leader I would never make terms with Israel. That is natural: we have taken their country. Sure God promised it to us, but what does that matter to them? Our God is not theirs. We come from Israel, but two thousand years ago, and what is that to them? There has been antisemitism, the Nazis, Hitler, Auschwitz, but was that their fault? They only see one thing: we have come here and stolen their country. Why should they accept that?"

- Israeli Prime Minister David Ben-Gurion as quoted in "The Jewish Paradox: A personal memoir" (1978), by Nahum Goldmann (translated by Steve Cox), p. 99.
Zionism: more than traditional colonialism and apartheid
By Lasse Wilhelmson

"The Founding Myths of Israeli Politics" - a must read!
The fantastic book by French politician and Muslim Roger Garaudy


"The Founding Myths of Israeli Politics" (PDF)
By Roger Garaudy


Encyclopedia of the Palestine Problem
The most comprehensive collection of facts/documents on the Zionist theft of Palestine,
the basis of the real "Nuremberg" trial against Zionism and its leaders


Israel and Zionism
[566 Kilobytes] [about 144 paper pages] The myths about Israel; an overview of Zionism; Jewish American fantasies about the Jewish state; the American mass media as a tool for Israeli propaganda; Israel as a separatist, racist, and undemocratic country; the obnoxious "sabra"; the condition of Arabs under Israeli rule; institutionalized torture of arrested Palestinians; Israeli exploitation of internationally imported laborers; intra-Jewish racism; the Israeli weapons industry and Israeli support for worldwide dictatorships.


UN: Zionism - "a movement based on racial superiority"
By Janine Zacharia (Jerusalem Post)


Will Jewish Zionism Bring Armageddon?
By Henry Ford, founder of the Ford Motor Company, from "The International Jew". Very insightful must-read article written in 1921! Foresees the Second World War and the Zionists' expulsion of the Palestinian Arabs.

"Zionism is challenging the attention of the world today because it is creating a situation out of which many believe the next war will come. [...] it is believed by many students of world affairs that Armageddon will be the direct result of what is now beginning to be manifested in Palestine."

The Life of an American Jew in Racist Marxist Israel
A book by Jack Bernstein. (Also available as PDF.)


My Farewell to Israel, Thorn of the Middle East
A book by Jack Bernstein. (Also available as PDF.)


"Israel" - A colonial project founded by Ashkenazi Jews from former Russian Empire - overview graphics
All Israeli Prime Ministers linked to former Russian Empire.
Some additional important facts, often conveniently hidden away:
When the Zionist movement was founded in 1897, less than 5% of the population of Palestine was Jewish. When Israel was proclaimed in 1948, out of 37 signatories to Israel's declaration of independence, only three were Jews born in the Middle East!
A survey published in the major Israeli newspaper Yedioth Ahronoth on July 23, 1976, showed that as many as 80% of Israel's elite (government and Knesset members, business leaders, etc.) hail from an area of ​​only 600 km radius around the city of Pinsk in Belarus!


The P-Word Is Palestine
By Stan Goff, July 16, 2006


The Controversy of Zion (PDF)
By Douglas Reed


Introduction to the German translation of Douglas Reed's book "The Controversy of Zion"
By Jürgen Graf


No Beauty In The Beast: Israel Without Her Mascara (PDF)
By Mark Glenn, 2005.


Mahatma Gandhi Rejected Zionism
By Professor A. K. Ramakrishnan. Contains quotes on M. Gandhi and Zionism: "But in my opinion, they [the Jews] have erred grievously in seeking to impose themselves on Palestine with the aid of America and Britain and now with the aid of naked terrorism... Why should they depend on American money or British arms for forcing themselves on an unwelcome land? Why should they resort to terrorism to make good their forcible landing in Palestine?"


Origin of the Palestine-Israel Conflict
By Jews for Justice in the Middle East.


IsraHell On Earth
This powerful documentary exposes the hell that the Palestinians have been going through since their land was stolen in 1948 by a cabal of Zionist Jews. "IsraHell On Earth" looks at the origins of the abomination that is IsraHell and exposes its Apartheid crimes.


Occupation 101: Voices of the Silenced Majority
Very informative documentary film on the realities of the Palestinians living under Jewish occupation and the background to the Zionist takeover.
Alternative video links: here and here and here


Ahmed Rami of Radio Islam speaks on Hezbollah's Al-Manar TV about the Jewish occupation of Palestine
Interview from 2005. English subtitles.


The Jewish Tribal Review´s huge article collections on Israel, Zionism and the Palestine Question:

Zionism´s historical roots

As Judaism is deeply racist, implemented Judaism in the form of Zionism, is logically a racist and anti-humanitarian movement. Understanding Zionism of today one has to acquire knowledge of Zionism's history; its historical roots, former and present alliances and methods.


Anti-Zionist Jews like Alfred Lilienthal and Israel Shahak have published several interesting works on Zionism and Israel.
Excerpts from Alfred Lilienthal's famous book "The Zionist Connection II":

"Jewish History, Jewish Religion" - Israel Shahak's revealing book on Jewish history and Judaism's racist traditions:
"Open Secrets: Israeli Nuclear and Foreign Policies" - Excerpts from Israel Shahak's book on Israel's nuclear strategies for the Middle East:
Zionism´s and Israel´s Apartheid and Racism
Israeli Discriminatory Practices are Rooted in Jewish Religious Law
By Israel Shahak (Washington Report 07/1995)


"If It Walks Like a Duck ... ": The Racism of Zionism
By Donald Neff (Washington Report)


Land Without a People
Chapter 1 of The Palestinian Catastrophe: The 1948 Expulsion of a People From Their Homeland by Michael Palumbo, 1987. On the origin of Palestinian expulsion in Zionist ideology.


Zionist Logic
By Malcolm X, The Egyptian Gazette, Sept. 17, 1964.
" ...the Zionist argument to justify Israel's present occupation of Arab Palestine has no intelligent or legal basis in history..."


Israel's Apartheid - Desmond Tutu and other critics
A collection of articles


Apartheid: Israeli Style
By David Paul. Documents Judaism's historical Apartheid character, now applied in the Jewish state of Israel.


Declaration by South Africans on Apartheid Israel
Issued by the Palestine Solidarity Committee in 2001


Jewish Supremacist Psychopaths vs. Palestine
A must watch compilation by Know More News. Alternative version: here
Rabbis, Jewish settlers, Zionist leaders speak...


Nelson Mandela Speaking on Palestine [Extracts]
Extracts from a 1990 town hall meeting with Nelson Mandela, held in New York, chaired by Jewish journalist Ted Koppel of ABC Networks.


Nelson Mandela's grandson calls for protest at the "Apartheid Israel" embassy in South Africa
In the wake of the Israeli aggressions in East Jerusalem, West Bank and Gaza, May 2021. Alternative versions: here and here
Reiterating his legendary grandfather's stance: "Our freedom is incomplete until Palestine is free."
He even has the voice of Nelson Mandela!


Israel's apartheid and discrimination of African migrants and refugees - collection of articles, photos, videos


Israel's New Racism: The Persecution of African Migrants in the Holy Land
About 60,000 African migrants have arrived in Israel since 2006, fleeing unrest in their home countries. But upon arrival in the ostensibly "democratic" country, the migrants have faced intense persecution and have been branded as "infiltrators" by Jewish politicians and activists.


Racism Report: Africans in Israel
Report for the African Refugee Development Center (ARDC) to the United Nations Committee on the Elimination of Racial Discrimination (CERD) - submitted January 30, 2012


Anti-African Racism in Israel
Link to David Sheen´s informative homepage


Exposing Israel's original sins
By Gideon Levy, A review of a book by Benny Morris titled: "Correcting a Mistake - Jews and Arabs in Palestine/Israel, 1936-1956" (Ha'aretz 11/03/2000)


For Israel, Land or Peace By Jimmy Carter (Washington Post 11/26/2000)


Turmoil in Palestine: The Basic Context By Alex R. Shalom and Stephen R. Shalom (Z Magazine 10/2000). Nice introduction to the events for new Middle East readers.


The Sorrow of Truman By Sean Gonsalves (The Cape Cod Times 11/28/2000)


Israel's Apartheid Must End By Kevin James (New York Daily News 12/10/2000)


Apartheid by Any Other Name: Creeping annexation of the West Bank By Eitan Felner (Le Monde Diplomatique 11/1999)


Origin of the Palestine-Israel Conflict (Jews for Justice in the Middle East)


Zionist Ideology: Obstacle To Peace By Rabbi Elmer Berger, 1981, excerpts from an essay published in the Book Anti-Zionism, Edited by Tekiner, AbdRabbo, and Mezvinsky, 1988


Zionism: A False Messiah By Lance Selfa (International Socialist Review, Spring 1998)


A Quick History of the Rise of Israel By Charley Reese (Orlando Sentinel 01/05/1999)


Zionism: Jewish Americans and the State Department, 1897-1945. Chapter one of the book "Fallen Pillars: U.S. Policy towards Palestine and Israel since 1945" by Donald Neff


The State Department and Zionism, 1917-1945: A Reevaluation By Lawrence Davidson (Middle East Policy Council 10/1999)



"A regime of Jewish supremacy from the Jordan River to the Mediterranean Sea: This is apartheid"
Study published by B'Tselem, the Israeli Information Center for Human Rights, January 12, 2021.
Visit
their website
to read the full scope of their 2021 research, and
click here
to download the PDF short version.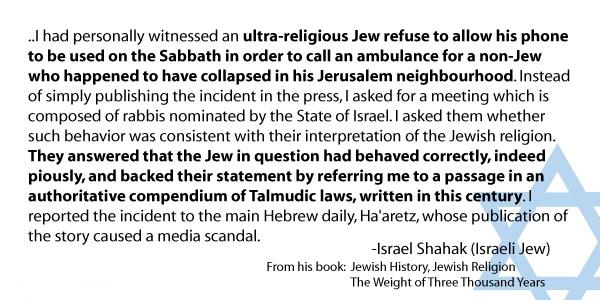 More on Judaism's inherent racism against non-Jews can be read in our special section on Judaism and Jewish Racism.



Intra-Jewish Discrimination and Violence
Discrimination in Israel extends further to Jews, where Ashkenazim (European Jews) look down to/discriminate against Sephardim (oriental Jews), and the ultra-religious (Orthodox, who control many aspects of civil law, e.g. marriages and burial) against other Jewish sects (Reform/Conservative) and secular Jews. The majority of U.S. Jews --thanks to whom Israel virtually controls American Middle East policy-- are of the Reform/Conservative sects, while the U.S. Orthodox Jews are a minority. In Israel, reform and consevative Judaism has very little following. About 85 percent of Jews in Israel are secular, (but still call for control of the land based on biblical accounts). Famous victims of inner Jewish discrimination include the family of Mordecai Vanunu, the Dimona nuclear technician who exposed Israel's nuclear program to the London
Sunday Times
. His family emigrated to Israel hoping to live in Haifa, but were instead forced to live in the desert town of Beersheba (see A Cockburn
"Dangerous Liaison"
, 1991, p.95). Perhaps the constant state of mobilization and fear of war created by Israel's rulers is one way to divert attention from those differences which may otherwise ignite bitter internal conflict.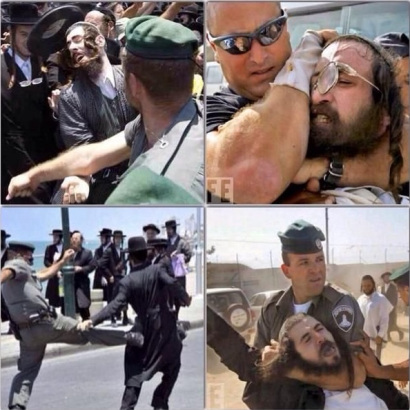 Jews enjoying the world renowned "Israeli hospitality"
in Israel, the "promised land of the Jews".
More on "religion" vs "secularism"
More on intra-Jewish violence
Israel - a violent society

Our Violent Society Jerusalem Post, January 18, 2002
"In a recent interview in Yediot Aharonot, Prof. Bernard Lewis, the world-renowned doyen of Middle Eastern studies, described Israelis as being the most impolite people in the world."


Everybody Hates - on a study on Israeli students
Jerusalem Post, October 22, 2000: 'It's come to the point that hating is almost the only way to relate to people you don't agree with."


11% of women have been beaten at home in a widening cycle of violence
By Ruth Sinai, Ha'aretz (Israel), November 4, 2002: Prof. "Isikovitz says he was less shocked by the findings about the scope of violence than the willingness of the victims to justify it."

Zionist-Nazi Alliance, Anti-Semitism, and the "holocaust"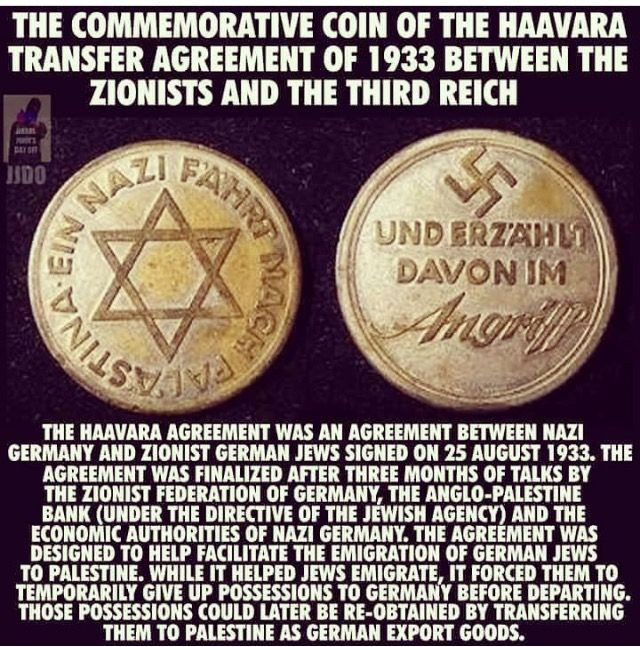 Politicizing the "holocaust"
The "holocaust" myth has been turned by Israel and its supporters into a political tool to silence criticism against its expansionist actions as "anti-Semitism". It has also been turned into a money-making, and vote-collecting tool for lawyers and politicians. Indeed the reason why Arabs are sometimes more inclined than others to adopt "holocaust"
Revisionism
is the use by Israel's supporters of the purported "holocaust" as a weapon to silence critics of Israel in its treatement of Palestinians.
Mahmoud Ahmadinejad: Proposes committee to clarify "Holocaust"
Document also includes writings by Prof. Arnold Toynbee on the Palestine Question and the "holocaust" and an interview with Professor Abdullah Mohammad Sindi, where he says there was no such a thing as the "holocaust" and argues that it is in fact Israel which has created a real holocaust for Palestinians.


Zionist Mind Control and The Perpetual "Holocaust of Six Million Jews"
By the since surpressed ZionCrimeFactory site. (PDF version)


The Psychic Pronouncements of Zionist Jews
By ZionCrimeFactory. Zionist Jewish leaders strangely able to "foresee" important world events...


Modern "Gas Chambers"/"Gassing Jews" Atrocity Tales - A Zionist Propaganda Technique
Gas chambers in Iraq and Iran!


Robert Faurisson on the jailing of Ahmed Rami and the lie of the alleged "holocaust" vs. Palestine

"

Now I would like to address myself very specially, for the first time, to Arab people and Moslem people. And specially to Palestinian people. [...] You see, you Arab people, Moslem people, Palestinian people, you think that you have against you very powerful people and specially Jews with money, with tanks, with planes, with missiles and so on ...But I think that the most important weapon that the Jews have against you is the big lie of the Holocaust. As long as this lie will stay alive in Europe, in The United States, Canada etc, people will give money to the Jews - tanks and planes and so on ... Please, try to understand that the question of the gas-chambers and the genocide is not a question of the past."


The Holocaust Industry: Reflections on the Exploitation of Jewish Suffering
By Victor Sebestyen


Quotes from Norman G. Finkelstein's Book "The Holocaust Industry"



Psychic Zionist pronouncements on the "Holocaust"
(click to enlarge)



Extracts from The Holocaust Industry - "The Business of Death" and "Swiss toll"
By Norman Finkelstein (published in The Guardian 07/12 and 07/13/2000)


Will The Holocaust Industry Incite Anti-Semitism?
By Norman G. Finkelstein (Sueddeutsche Zeitung 08/11/2000)


The Holocaust Industry
An article by Norman Finkelstein (Index On Censorship 03/2000)


The Holocaust Industry

: Reflections on the Exploitation of Jewish Suffering

(PDF)
By Norman Finkelstein. The whole book in English.


The Politicization of the Holocaust: Examining the Uses and Abuse of Its Legacy
By Allan Brownfeld (Washington Report 10/1998)


What Price Holocaustomania? The Specter of Hitler That Drives Washington's "Israel First" Mideast Policy
By Alfred Lilienthal (Washington Report 04/1998)


Israel's Holocaust Museum Honors Israeli Soldiers.
(Israel Wire 10/18/1998) One of the ways Israel has politicized the Holocaust for the cause of Zionism.


The Holocaust: Using it as a propaganda machine by Israel
By Alfred Lilienthal. Extracted from chapter 13 of the book "The Zionist Connection II: What Price Peace?"


The Holocaust in American Life - a book by Peter Novick reviewed
By Rachelle Marshall (Washington Report 01/2000). See Amazon.com page about it.


WW II Revisionists Turn on the Swiss
By Eric Margolis (03/08/1999)


Israel Has WWII Assets
By Jack Katzenell (Associated Press 04/13/2000)


Swiss Gold: Some of Holocaust survivors' assets are in Israel
By Dafna Linzer (Associated Press 05/07/1997)


For information on the non-Jewish version of WWII, please see our section on Revisionism.

Note: More on the mystical and over-and-over repeated "6,000,000" Jews figure and its history, cunningly used by the propagators of Zionism and theft of Palestine,
please see collection of articles from our Winston Smith Ministry of Truth Archive.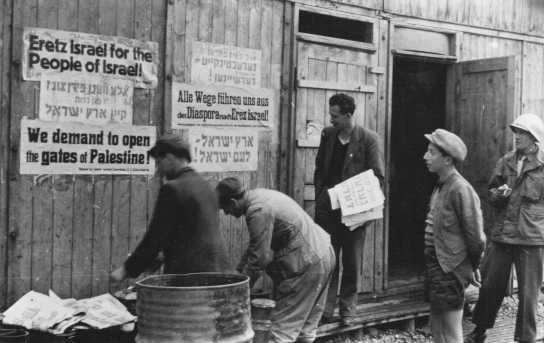 Pro-Zionist propaganda posters in a liberated concentration camp.
"Eretz Israel for the People of Israel!" "We demand to open the gates of Palestine!"
"Importing" Jews, even if they weren't Jews
"About one-quarter of the immigrants who have come to Israel during the past ten years are non-Jews."
-- Yair Sheleg, Ha'aretz, 01/31/2000.

Labor vs Likud: No Difference in Actions. Israel's "Left"
"

You are exactly like the Likud. Don't you think that the Arabs need someplace to live?

" member of Knesset Shulamit Aloni complained to Rabin after he made up his wide settlement plan of 1995, on 01/25/1995, Rabin Responded "

I think about Israelis

,".
(Quoted in "Settlements and the Israel-Palestinian Negotiations" by Geoffrey Aronson, 1996)


Historical Documents and Chronologies
---
Other archives on Zionism and the occupation of Palestine:


• Israeli Wars, Nukes

• Jewish Terror

• Palestinian Uprising

• "Peace Process"

• The U.S. Cost of Israel