The Jews in Great Britain make out only 0.5 percent of the total population but have an overhelming grip on British politics and medias, completely out of proportion to their status as a minority. This Jewish influence is used for the goals of Zionism where Britain's foreign policies are made to coincide with the aims of Israel.



As just one percent of the population in England, by World War I Jews accounted for 23% of Britain's non-landed millionaires, as financiers, merchants, bankers, stockbrokers, and other such entrepreneurs. [GINSBERG, B., 1993, p. 22] "Of 31 millionaire British merchants who died between 1808 and 1838 ... 24 were Jewish." [BROOKS, J., 10-23-88, p. 42]
Typical too, as everywhere, the Jewish elite in England were genetically insular in consolidating their wealth and control. "[Britain's] leading [Jewish] families," says W. D. Rubenstein, "among them the Rothschilds, Montefiores, Goldsmids, Samuels, Sterns, Beddingtons, and Sassoons -- became immensely wealthy, a self-contained and inter-married caste which has come to be known as the 'cousin-hood.'" [RUBENSTEIN, p. 13]
Only Jewish alternatives: Before the choice of the British citizens was between Labour's Tony Blair, a stooge of his Jewish paymasters Lords Levy, Gavron and Hollick, or the Tories, headed by the Jews Michael Howard, Malcolm Rifkind and Lord Saatchi. Then it was Labour's Gordon Brown financed by the Jews Sir Cohen and David Abrahams or Tories' David Cameron, himself of Jewish ancestry and sponsored by Jews like Andrew Feldman, Lord Kalms and the pro-Israel organization Bicom' s Poju Zabludowicz. As an alternative to Cameron we had the Labour Jews and brothers David and Ed Miliband, the latter winning over the former as the new Labour party head in 2010.
And in 2020, the same story; Tory leader Boris Johnson serving as UK Prime Minister, "Jewish" according to the Jewish Press. His right hand Dominic Raab, Foreign Secretary, also Jewish. And in charge of the "opposition" Labour Party, Sir Keir Starmer, himself married into the Tribe of Jews.
This is democracy - Jew-styled!


"Due to its heavily corrupted politicians, Britain is now willingly serving the darkest possible
racist national ideology and supporting a criminal terrorist state."
-- Gilad Atzmon, ex-Jew, in his article "Britain must de-Zionise Itself Immediately", November 17, 2009.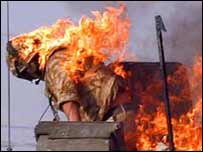 A British soldier on fire in Iraq
- for fighting Israel's dirty war


The Labour Party and Jewish influence
Sir Keir Starmer - new Labour stooge for the Jewish masters running UK
He is married into the Jewish mafia, has Jewish kids, and declares that he will "support Zionism without qualification" - the Jews are delighted!
Includes articles from the Jewish/Israeli press and The Electronic Intifada.


Zionist stooge Keir Starmer cracks down on dissent within the Labour Party's ranks
Labour MP Rebecca Long-Bailey sacked by Keir Starmer for mentioning the connection U.S. police brutality-Israel. Includes lots of information on the Israeli company "Israeli Tactical School", information that proves her right.



"The Labour Files"


By Al Jazeera Investigations. Based on the largest leak of documents in British political history. "The Labour Files" examines thousands of internal documents, emails and social media messages to reveal how senior officials in one of the two parties of government in the UK ran a coup by stealth against the elected leader of the party.

The Purge (see all, but especially from 36:55). How Ella Rose, a former employee at the Israeli embassy in the UK becomes a leader of the Jewish
Labour Movement (JLM), a classic case of Jewish entryism/infiltration.

The Crisis - On the fake "anti-Semitism" campaign against pro-Palestinian Labour politicians. See whole clip, but especially from 27:10, on Jewish
Labour Party infiltrator Jonathan Hoffman, former vice-chair of the Zionist Federation and adviser to Labour Against Antisemitism(!).

See also the article "New bombshell film exposes Israel lobby role in UK Labour Party" (The Electronic Intifada, 22 September 2022)


Zionist Influence Ops. in the UK's Labour Party
Analysis by Project Nemesis - Documenting the Networks of Zion

Jewish Labour boss Ed Miliband in the Jewish Press
On "Ed Miliband's links to Israel", British Jews...

See also the article in The Jewish Chronicle on David Miliband that reveals that the Milibands even have relatives who are Jewish settlers: "... most of Mr Miliband's relatives in Israel are Orthodox, including some West Bank settlers"


Britain's Gordon Brown becomes patron of Zionist agency
PM Brown has agreed to become patron of the UK arm of the Jewish National Fund


Gordon Brown in The Jewish Chronicle
Revealing articles from Britain's leading Jewish paper on PM Brown and what the Jews think of him; "a Jew... kind of"





Check this link

to see Channel 4's "Dispatches" documentary "Inside Britain's Israel Lobby" aired November 16, 2009.

Gordon Brown - supported with Jewish funds - hails Israel
Sample of articles with revealing quotes


Videos on how British PM Gordon Brown bows to Israel and the British Jews
Wishing Israel happy birthday and the Jewish community happy hanukkah


David Miliband - Britain's Jewish Foreign Secretary
Documents Miliband's connection to the Jewish mafia and Israel


Gordon Brown puts Israel lobbyist in charge of Britain's Middle East policy
Jewish MP Ivan Lewis appointed Minister of State at the Foreign and Commonwealth Office with responsibility for Middle East policy, Iraq, Iran, counterterrorism and Anglo-American relations


British regime puts senior Israel-lobby man in charge of election funding
Zionist Jew Jon Mendelsohn appointed as Director of Election Resources


Jon Mendelsohn profile: a real Mr Fix-It
Telegraph article which tells that Mendelsohn is "close friend of Lord Levy" and how Mendelsohn's "wife Nicola, is a close friend of Mr Brown's wife, Sarah"


Israel adviser switches to top FO job in Britain
The British Foreign Office has appointed an Israeli government adviser Daniel Bethlehem to one of its most sensitive posts as head of the legal department


Britain appoints Judaeo-centric Zionist diplomat as ambassador to Israel
By Gilad Atzmon. David Miliband appoints fellow Jew Matthew Gould as Britain's new ambassador to Israel


Gordon Brown employs chief Rabbi Sacks' daughter as "special advisor"
Gila Sacks, former Director of Strategy of the United Jewish Israel Appeal, "will provide advice to the Chancellor on policy priorities"


Gordon Brown appoints Israel apologists to oversee British media
On the appointment of James Purnell, former chairman of Labour Friends of Israel, as Secretary of State for culture media and sport and Jim Murphy from the same organization, as Minister of State for Europe


Britain's Jewish Foreign Minister
David Miliband who even has relatives who are Jewish settlers

in the occupied West Bank.



The Jewish Chronicle on Brown's 2008 reshuffle - some interesting revelations
The JC on Peter Mandelson, David Miliband, Dr Howells, Jim Murphy, Caroline Flint and Ivan Lewis


The man Labour 'doesn't know' turns up in photos with a string of senior figures
Daily Mail article on Labour's Jewish sponsor David Abrahams' connection to
Tony Blair, to the Jew Peter Mandelson and Jewish Foreign Secretary David Miliband


How Mossad Controls Our Political Parties
includes the info that Labour's financial backer Ronald Cohen is married to the daughter of the former Mossad chief Yossi Harel and that Lord Levy's son works for the Israeli Government


Jewish cash for Jewish Policies continues under Gordon Brown?
Long article on the Jews influencing the Labour Party, including David Abrahams and Jon Mendelsohn


Cash for Honours? It's Jewish Cash for Jewish Policies!
On Blair's Jewish paymaster Lord Levy and how this Jew took over British foreign policy in the Middle East


The Sunday Times sums up Jewish Labour backer Lord Levy
Levy "a pillar of British Judaism and a leading international Zionist", declares himself "an absolute believer in the state of Israel" and "served as Blair's special envoy to the Middle East"


Blair's Secret Donors Exposed
Article from The Sunday Times



More interesting info on Ed Miliband from the special article archive on him at The Jewish Chronicle.



Keir Starmer, Labour boss, has been voted as one of "the Top 50 Zionist Influencers of 2020 based on over 600 nominations from [Jewish] communities around the world", by the Jewish site: https://www.top50proisraelinfluencers.com/ (see screencap above)
Starmer earning this position as he "has extended family living in Israel, and his wife's family is Jewish" and because he has stated: "I support Zionism without qualification."
It should be noted that Zionism is a specifically Jewish ideology, the basis of the Jewish state of Israel - a newly constructed Jewish entity in the Middle East - and has nothing to do with Great Britain/UK or real British interests.
The Tories and Jewish influence

"I am a passionate Zionist."
-- Boris Johnson

"Israel's enemies are our enemies and this is a battle in which we all stand together or we will all fall divided."
-- Liam Fox, MP, Secretary of State for Defence and International Trade

"I will defend Israel's right to exist as long as I have breath in my body"
-- Michael Gove, MP, Education Secretary, The Jewish Chronicle, September 22, 2011


British Prime Minister Boris Johnson a "passionate Zionist", I "love" Israel
Agent of Zionism ensuring that even Brexit is under Globalist Jewish control...
Revealing interview in the Jewish News.


Britain´s Jewish Foreign Secretary and former Brexit Boss Dominic Raab - "Brexit secretary Dom Raab reveals dad's Holocaust escape in blast at Corbyn over anti-Semitism"
Articles fom The Times of Israel and The Sun.
Zionist Jew Dominic Raab is from 2019 the new British Foreign Secretary, before that being the Jewish boss of Brexit.
Agent of Zionism ensuring that even Brexit is under Globalist Jewish control...


Tory leader David Cameron in the Jewish Press
Reveals that Cameron has "Jewish blood", has "Jewish values", is "a Zionist", and backed by Jewish money men with connections to Bicom


David Cameron 'could be a direct descendant of Moses'
The Times, July 10, 2009. "David Cameron could be a direct descendant of Moses, a Jewish scholar has suggested."


Cameron "a Zionist" and "good for Jews"
Articles from the Jewish-Israeli Press


Cameron's big Jewish backers
List of the Jewish money men behind the Conservative leader James Cameron


David Cameron, the Conservative Party and the Conservative Friends of Israel
Names the main activists for Israel within the Tories


Zionist Jew becomes speaker of British Parliament
Tory Jew John Bercow gets top job in 2009


Jewish party backing and foreign policy change in Tories
"An influential coterie of Tory MPs is bent on a foreign policy driven not by Britain's interests, but those of the US and Israel"


Grin and bear it - Article from The Guardian revealing Conservative leader Michael Howard's Jewishness


Book Review from BusinessWeek on Iraqi Jewish Saatchi Brothers
Article on the Saatchi brothers Advertising Empire. Iraqi Jew Maurice Saatchi has become the Conservative Party treasury spokesman in the House of Lords and under the Jewish Tory leader Michael Howard has risen to share the job of Party Chairman, while brother Charles Saatchi has become well known as a patron of arts, with his Saatchi Gallery.


On the Saatchi Synagogue in London
From a page at the World Jewish Congress Homepage (a now defunct link):
"The popular Saatchi Synagogue - designed to attract unaffiliated London Jews to traditional Judaism - opened its doors in 1998. The opening provoked a degree of controversy because of its accompanying national advertising campaign (provided by the famous Saatchi and Saatchi firm whose owners had funded the new institution) - a campaign which used a sophisticated advertising style to emphasize that the new congregation, though traditional, would not be as 'boring' as other Orthodox synagogues. Today, the synagogue continues to attract many otherwise unafilliated young Jews to its services, lectures and communal events."
More interesting info on
David Cameron
from
the special article archive on him at The Jewish Chronicle
.


The Liberal Democrats and Jewish influence
UK politician: Pro-Israel lobby controls West
Lib-Dem Baroness Jenny Tonge: "The pro-Israeli lobby has got its grips on the Western World, its financial grips. I think they've probably got a certain grip on our party"


Lib-Dem leader denouces the Jewish lobby
Chris Davies, Lib-Dem MEP: "...I shall denounce the influence of the Jewish lobby that seems to have far too great a say over the political decision-making process in many countries"



Zionist controlled medias feed the British people the Zionist version of the current events, masquerading their racism and constant crimes against Humanity as a struggle for "freedom" against "terrorism".
"In Britain, until 1955, radio and television were a state monopoly ... In 1955, however, commercial television was launched and in time comprised three networks and several smaller regional companies. The networks, Associated-Rediffusion, Associated Television and Granada were headed by Emil Littler, Lew Grade, and Sidney Bernstein respectively, all of whom had spent a lifetime in show-business ... and all three were Jewish."
-- Chaim Bermant, The Jews, Times Mirror, 1977, p. 105. Underlines and bold style added by Radio Islam.


"Britain's Jews are being urged to seize the unique opportunity presented by the digital revolution to create their own television channel.
The call came yesterday from the Institute for Jewish Policy Research (JPR), a leading international think-tank, and is being backed by prominent Jews who hold some of the most powerful posts in British broadcasting, including David Elstein, chief executive of Channel 5, Michael Green, chairman of Carlton Communications and Sir Jeremy Isaacs, founding chief executive of Channel 4.
His successor Michael Grade was also Jewish. Indeed, until he quit television last year, all of Britain's five terrestrial channels had Jews in prominent positions."
-- Quote from The Independent, 20 March 1998. Underlines and bold style added by Radio Islam.

And in 1998 the (London) Daily Telegraph noted Gail Reubuck, "daughter of affluent Baltic Jewish immigrants," as "the most powerful figure in British publishing," and "recently voted Publisher of the Year." (Daily Telegraph [London]; in Ottawa Citizen, April 1, 1998, p. D4)
Jewish media-power in Great Britain (Updated)
A thorough investigation of Jewish domination of British medias.
Addendum: In 2013 the Jew Danny Cohen became director of television of the BBC. Note that earlier the Iraqi Jew Alan Yentob had the same position of influence.


Jewish media-power in Great Britain
Same document as above but with a different layout and without photos


Jewish Media influence in Great Britain
From the Jewish Tribal Review homepage's "Jewish Influence in the Mass Media" (pt. 2). Contains additional and more updated information on Jewish media influence.


Proof of the Jewish-Zionist takeover of the BBC and other UK TV services
By David Duke, 2014, The current head of BBC Television is the Jewish Supremacist Danny Cohen...


Who controls the British media?



"On 10 November 1991, Maxwell's funeral took place on the Mount of Olives in Jerusalem, across from the Temple Mount. It had all the trappings of a state occasion, attended by the country's government and opposition leaders. No fewer than six serving and former heads of the Israeli intelligence community listened as Prime Minister Shamir eulogized: 'He has done more for Israel than can today be said' "

- On British Jewish media tycoon Robert Maxwell's burial. "Gideon's Spies: The Secret History of the Mossad", by Gordon Thomas, St. Martin's Press, 1999.

BBC - Grade gets top job
Revealing article on Zionist Jew Michael Grade from SomethingJewish.co.uk


BBC staff are told not to call Israeli killings 'assassination'
By Robert Fisk (Independent 08/04/2001)


Israel wins war of words
By Brian Whitaker (Guardian 04/09/2001) on BBC and the dangers of sloppy journalism.


John Pilger on Israel and the media
By John Pilger, News Statesman. The BBC has produced a "documentary" on occupied Palestine: "It was, in effect, an Israeli occupation propaganda film put out by the BBC. It was made as a co-production with an American channel, and the credits listed the producer as Israel Goldvicht, who runs an Israeli production company."


Israel furious at BBC for Sharon claim
By Brian Whitaker and Vikram Dodd (The Guardian 06/15/2001)


BBC staff are told not to call Israeli killings 'assassination'
By Robert Fisk (Independent 08/04/2001)


Zionist Conrad Black, the Hollinger Group and British and Canadian Medias
Investigation by the Boycott Israel Campaign


Murdoch Concedes that his Aims are Jewish: "I have always believed in the future of Israel and the goals of the international Jewish community"
Excerpts from the Jewish Magazine "15 Minutes"


Murdoch's Friendship to the Butcher Sharon
Excerpts from the Jewish Magazine "15 Minutes"


Murdoch's Pro-Zionist Censorship
Article from the Evening Standard


Did Murdoch bilk Israel of $150 million?
From Jewish Telegraphic Agency


The Maxwells: Mossad's First Family of Spies
By Philip Giraldi, The Unz Review, December 8, 2020. Who was running whom in the Epstein espionage ring?
On orthodox Jew Robert Maxwell, British media mogul and fanatic Zionist, personal friend of Israel's butchers Ariel Sharon and Yitzhak Shamir.


Springer company's pro-Israelism: Will Telegraph staff have to sign Israel pledge?
By Chris Tryhorn, The Guardian


Shocking 1944 British government letter
Letter to the BBC & higher members of the British clergy, from the British Ministry of Information.
From the Winston Smith Ministry of Truth Archive.



Tales of the Holohoax (PDF)
Satire comic book by British citizens Shepard and Whittle, which led to their subsequent imprisonment on the bogus accusation of "inciting racial hatred online" (see The Guardian article, July 10, 2009). Freedom of Speech - Jew-style!


More on Rupert Murdoch's media empire is to be found in our special section on the Jews and World medias.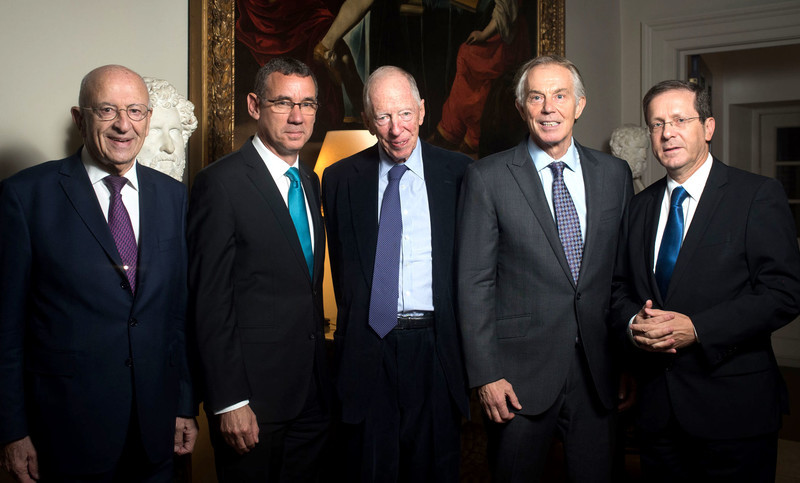 Rothschild manifesting Jewish power in 21st Century United Kingdom:
Celebrating arch-Zionist Israeli General Chaim Herzog with a memorial party organized by the United Jewish Israel Appeal in London in 2018.
Lord Jacob Rothschild, center, flanked by former UK Prime Minister Tony Blair on the right and Israel's UK Ambassador Mark Regev to the left. Furthest left, Jewish businessman Sir Trevor Chinn active within Britain Israel Communications and Research Centre (BICOM), and furthest right in the image, Isaac Herzog, Israeli politician, chair of the Jewish Agency and son of Chaim Herzog.
All happy faces.
Rothschild + Israel = True!
---
More on Jewish power / Israeli influence in the World: