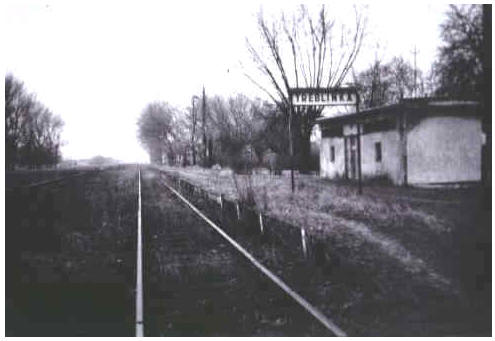 The Jews'
"official" story
:
Treblinka II was a Nazi German extermination camp in occupied Poland during World War II. Around 850,000[1] people - more than 99.5 percent of whom were Jews, but also other victims (among them 2,000 Romani people) - were killed there between July 1942 and October 1943.
The truth
:
source:
J
udicial-Inc
It was a transit stop where Jews were de-liced and had their hair cut before being shipped to occupied Russia. Train loads of Jews would arrive at T-II to be deloused. Their luggage would also be deloused. Once the procedure was completed, the Jews would board a new train that would take them to their final destination which was either a labor camp or ghetto somewhere in occupied Soviet territory.

German documents indicate Jews were being funneled through Treblinka which was designated a transit camp. Treblinka played a major role in the deportation of Jews from the Warsaw ghetto to labor camps and ghettos farther east.
Over six days in October of 1999, Australian scientists conducted a detailed forensic examination of the soil at the site, including the use of ground penetrating radar, and found absolutely no evidence whatsoever of any mass graves ever existing there.
Report:

Title:

NO TRACE OF MASS GRAVES FOUND AT TREBLINKA -- Ground Penetrating Radar Examination Exposes "Extermination Center" Fraud
Source: The National Association of Forensic Historians™
URL Source:

http://www.nafcash.com/
Published: Jan 12, 2008

A detailed forensic examination of the site of the wartime Treblinka camp, using sophisticated electronic ground radar, has found no evidence of mass graves there. For six days in October 1999, an Australian forensics team headed by Richard Krege, a qualified electronics engineer, carried out an examination of the soil at the site of the former Treblinka II camp in Poland where, holocaust historians claim, 870,000 Jews were put to death in gas chambers and then buried in huge mass graves. Krege said: "From these scans we could clearly identify the largely undisturbed horizontal stratigraphic layering, better known as horizons, of the soil under the camp site. We know from scans of gravesites and other sites with known soil disturbances, such as quarries, when this natural layering is massively disrupted or missing altogether. Because normal geological processes are very slow acting, disruption of the soil structure would have been detectable even after 60 years. Historians say that the bodies were exhumed and cremated toward the end of the Treblinka camp's use in 1943, but we found no indication that any mass graves ever existed."

According to the Encyclopedia of the Holocaust (1997), "a total of 870,000 people" were allegedly killed and buried at Treblinka between July 1942 and April 1943. Then, between April and July 1943, the hundreds of thousands of corpses were allegedly dug up and burned on large grids made of railroad rails. Krege's team used an $80,000.00 GROUND PENETRATION RADAR (GPR) device, which sends out vertical radar signals that are visible on a computer monitor. GPR detects any large-scale disturbances in the soil structure to a normal effective depth of four or five meters, and sometimes up to ten meters. (GPR is routinely used around the world by geologists, archeologists and police.) In its Treblinka investigation, the team carefully examined the entire Treblinka II site, especially the alleged "mass graves" portion, but found no evidence of individual graves, bone remains, human ashes or wood ashes.

[...]
Video documentation of the investigation:
As this video - naturally - now has been censored and deleted at YouTube we here provide you with a copy, to see and judge by yourself.
Click link to download the short video on the forensic investigation (MPG-format):
Secrets Facts - Treblinka, False Concentration Camp
Australian reasearches travel to Treblinka concentration camp, looking for signs and proof of massgraves. They found nothing.
Documentary exposing the lies about Treblinka being an extermination camp, "The Treblinka Archaeology Hoax":
Alternative video link (with French subtitles):
here