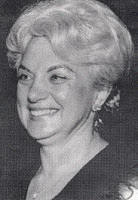 Yanina was only 10 years old when the nazis took her to the Auschwitz gas chambers. Because the Nazis killed all children under 16 at the Death Camp.
The Nazis threw Yanina into the gas chamber and fired up the gas. All the adult Jews croaked. They fell on top of Yanina, and protected her with their bodies from the poison gas! It was a miracle!
Then the SonderKommandos dressed 10 year old Yanina in a uniform and told her to blend in with the other adult prisoners. The stupid nazis never caught on, and so they sent 10 year old Yanina to work at Dachau.
Death camp survivor speaks at Augie tonight



Monday, April 11, 2005
The Quad-City Times
Times staff report

Yanina Cywinska, a survivor of the gas chamber at Auschwitz, will present the 2005 Geifman Lecture in Holocaust Studies tonight at Augustana College in Rock Island.

The free lecture will begin at 7:30 p.m. in Wallenberg Hall, inside the Denkmann Memorial Building, 3520 7th Ave. Cywinska will share her firsthand account of the atrocities she endured as a prisoner in the Auschwitz and Dachau concentration camps.

Tonight's program will include the announcement of the winners of the 2005 Geifman Awards for written responses to the Holocaust. The lecture and awards are sponsored by the Geifman Endowment in Judaica. Donated by Gerry and Morris M. Geifman, the endowment supports the college's acquisition of informational materials in Judaic studies and culture. In addition, it provides for guest lecturers and student scholarships and awards.

Cywinska was a 10-year-old student at the Kirov Ballet in Leningrad (now St. Petersburg) when her Polish Catholic parents suddenly called her home to Warsaw. Cywinska's parents, a physician and an artist, worked to assist Jews imprisoned in the Warsaw ghetto during the Nazi occupation of Poland until they themselves were placed in a Warsaw detention center. Once the family boarded trains for Auschwitz, Yanina would never see her parents or brother again.



At Auschwitz, she survived the gas chamber when adult bodies fell on top of her, protecting her from inhaling a lethal amount of poison gas. Found moaning by Jewish slave laborers who were forced to clean the gas chambers, she was resuscitated, given a uniform and told to blend in with the others. She was later moved to the Dachau camp in Germany

, where she remained until it was liberated in 1945.