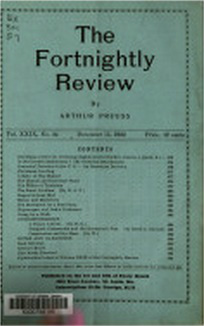 The Fortnightly Review,

was a liberal British
periodical which ran from 1865 - 1964
wikipedia
The following extract is from Volume 81, back in 1904. It
discusses the Kishinev pogrom of April 1903, claiming it was
not about religion, but about Jewish usury. And states that
the British Press is controlled, and manipulated by Jews.
More subtle than the Germans, but stronger, are the Jews, who under the treatment which the Hebrew race has experienced at the hands of Russia since she annexed the Jewish question in the Partition of Poland. The memories of a hundred Kishineffs are sufficient to explain the hatred of the Hebrew race for the Slav, and the manner in which Israel desires to requite the persecutor of the Chosen People.

The visible mastery of the finance of the world achived by the nimble Jewish intellect is accompanied by a phenomenon which hitherto has attracted but little attention. I refer to the extent to which the Press and news agencies of the world are now in the hands of capitalists, writers and managers of Jewish extraction.

This is not the time to discuss the question, but since Russia has an enemy wherever a Jew lives, it is clear that the readers of the world's Press, so long as Jews control it, are not likely to be prepossessed in favour of Russia by anything that passes over the wires or appears in the leading columns of the daily and weekly newspapers.

The expulsion of the Jewish correspondent of the Times last May has been followed by reprisals against Russia by the leading journal, which may be natural, but are certainly misleading to the British public, notwithstanding their cleverness.

The Kishineff massace had no more to do with religion than with radium. It was a protest against outrageous and extortionate interest, and arose for the same reason and in the same war as the Limerick "persecutions." The Jewish question is budding in England and Ireland, and the more it grows the sooner we shall discover that Russians, Anglo-Saxons, and Celts are, after all, very much alike, made of the same clay, and behave in similar fashion under the same provocation.
click image to enlarge