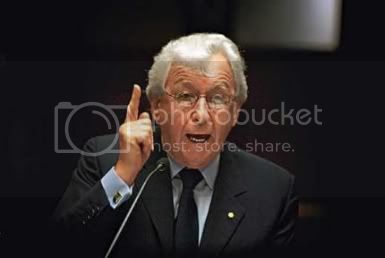 Fifty days before 9/11, Larry Silverstein's Silverstein Properties and Frank Lowy's Westfield America secured a 99-year lease on World Trade Center Buildings One, Two, Four and Five. Silverstein already owned Building Seven, aka the Salomon building. The Port Authority of New York and New Jersey handed over control of the World Trade Center to Silverstein and Lowy on July 24, 2001, an "historic" agreement and "one of the largest privatization initiatives in history."

Lowy leased the shopping concourse area called the Mall at the World Trade Center, made up of approximately 427,000 square feet of retail floor space. Silverstein and Westfield America insured the complex for $3.55 billion, but after the attacks of September 11 lodged a claim for $7.1 billion on the premise that each plane collision constituted a separate act of terrorism, doubling the payout. Most people know about "Lucky" Larry Silverstein's part in 9/11 and his dubious connections to Binyamin Netanyahu et al, but not much has been reported on Lowy, so let's have a look.

Frank Lowy is a Hungarian Jew who arrived in Palestine in 1945 to fight with the Haganah terrorist organisation in the Israeli "War of Independence", later joining Israel's Golani Brigade which was created in February 1948. In 1952 he moved to Sydney, Australia, where he started building shopping centers, before going on to work in investment banking in London, New York and Los Angeles. He co-founded the Westfield Group, which he still chairs. According to Wikipedia, "Westfield currently has interests in total assets worth A$41 billion, representing 121 shopping centres in four countries with over 10 million square meters of retail space. It is the world's largest retail property group by equity market capitalization". In California alone, he has overseen Westfield's regional growth from 6 shopping centers to at least 59. At $3.8 billion, he's ranked #2 in Forbes.Com's list of Australia and NZ's richest individuals - one of three men, all Jewish, who make up Australia's wealthiest elites - and by the same standard is the 174th richest man in the world.

Lowy's fondness for banking is not limited to the U.S. He's a board member of the Reserve Bank of Australia, Australia's central bank, which is the Australian version of the American Federal Reserve system and issuer of Australian banknotes. Lowy served a ten year term as director of the RBA.

Frank the Zionist is not at all disinterested in world politics. In 2001 he was the Associate International Chairman of the Israel Democracy Institute, and in 2003 he set up the Lowy Institute for International Policy, an international policy think tank devoted to foreign affairs, an endeavor which won him the Woodrow Wilson Award for Corporate Citizenship in 2005 (funnily enough, it was Wilson who signed the Federal Reserve Act). That same year, the Institute moved into its permanent home in Sydney's CBD which was formally opened by Australia's Prime Minister and Lowy's good mate, John Howard. He even joined Howard and Bill Clinton on an "evening Sydney Harbour cruise" when Clinton visited Australia in 1996 (source).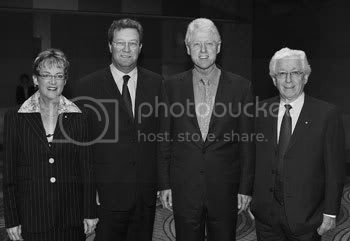 Frank Lowy (far right) with Bill Clinton and Australia's
Foreign Minister Alexander Downer
Other good friends of his include Israeli prime minister
Ehud Olmert
and
media mogul Rupert Murdoch
, who has
his own connections to 9/11
and who avidly supports the extremist Likud Party of Israel and the post-9/11 "war on terror". Israel has no better friend in the media than Murdoch and his empire.
Like Silverstein
, Lowy
maintains close relationships
with former Israeli prime ministers Ariel Sharon and Ehud Barak, and other high profile Zionists like Avinoam Brog, Barak's brother. Brog told the
Sydney Morning Herald
that Lowy's "influence is such that if he wanted to talk to any politician in Israel, then he could. And they will listen." Australia's political elite
listen to Lowy
, too:
Frank's friends in high places include the last four prime ministers — Bob Hawke, Paul Keating, John Howard and Kevin Rudd — and Australia's new foreign minister, Bob Carr, who (as NSW premier) became enmeshed in the controversial demise of Liverpool's Orange Grove shopping centre (a rival to Westfield) in 2004.
Frank Lowy spends three months of the year at his home in Israel and has been described by the
Sydney Morning Herald
as "a self-made man with a strong interest in the Holocaust and Israeli politics." He funded and launched the
Israeli Institute for National Strategy and Policy
, which will "operate within the framework of Tel Aviv University" in Israel.
Here's a look
at what he's got going on in Tel Aviv:
"Australian Entrepreneur Frank Lowy will be Chairman of the planned TAU Institute for National Strategy and Policy. Former US Ambassador to Israel Martin Indyk will act as Vice-Chairman."
Here's the
Australian Jewish News
report:
'Frank Lowy establishes Israeli institute'
And from the
Sydney Morning Herald
(September 2008):
As its chairman, Lowy has gathered some of the most influential policymakers in Israel and wealthiest international benefactors to sit on its boards.

Much like the Lowy Institute in Sydney, it is a respected independent academic institute that studies key issues relating to national security and foreign affairs, but with a special focus on the Middle East.

Its vice-chairman is Dan Meridor, a prominent lawyer and former politician in the centre-right Likud party. Meridor served as justice minister and finance minister in the 1990s, and is contemplating a return to politics with the Likud.

Also on the board are the Israeli building contractor Alfred Akirov, the president of Tel Aviv University and former Israeli ambassador to the US, Itamar Rabinovich, and the Australian-born Martin Indyk, twice the US ambassador to Israel during the Clinton administration.

Among those on the board of trustees are Lord David Alliance, an Iranian-born Jewish-British businessman and Liberal Democrat politician, and Sir Ronald Cohen, an Egyptian-born Jewish-British businessman known as "the father of British venture capital" and the man who bankrolled the leadership bid of the Prime Minister, Gordon Brown.

Other trustees are the Chicago real estate mogul Lester Crown and the US property tycoon Mortimer Zuckerman, who owns New York's Daily News and is editor-in-chief of the influential US News & World Report.
Furthermore, Lowy is a founding member of the International Advisory Council of the pro-Israel
Brookings Institution
in Washington. According to
Wikipedia
, "Brookings is generally considered one of the three most influential policy institutes in the U.S." The aforementioned Martin Indyk, former vice chairman of Lowy's Institute for National Strategy and Policy and former U.S. ambassador to Israel, is also a
Director at Brookings
. You can read about Indyk
here
. Some consider Indyk to be the
prime suspect
in the FBI's hunt for the Israeli spy known as
Mega
.
But Lowy's penchant for meddling in world affairs doesn't stop there. Lowy was vice president of a publication called the
Australia/Israel Review
(AIR), whose parent body is the
Australia Israel Jewish Affairs Council
(AIJAC), the
Australian equivalent
of its U.S. counterpart,
AIPAC
. The AIR is a right-wing Zionist publication whose editor, Michael Kapel, was
forced to quit in '98
after the magazine published stolen membership lists of the
One Nation party
, an Australian nationalist political group. And in 2004, during a parliamentary inquest into the closing of an illegally built shopping centre, Lowy was
very open about using his influence
to sway New South Wales premier Bob Carr on Middle East policy while denying that he'd used it to his advantage on the matter of the shopping centre:
JOHN RYAN: But you've got time for a 45-minute meeting with the Premier, a 45-minute with the Premier because you're a bit worried about his personal views on the Middle East.


FRANK LOWY: Mr Ryan, some things are more important than a job. The state of Israel, to which I am fully committed, is more important for me than to do a job and I fitted it in because it was necessary and I felt it was necessary, and I wanted to do it.


JACK RYAN: I wish you'd say these things at the beginning, Mr Lowy. I'm not trying to be difficult…


FRANK LOWY: You must be joking if you tell me you're not trying to be difficult.


JOHN RYAN: I simply think if you take the trouble to have a meeting with the most powerful political figure in New South Wales…


FRANK LOWY: That's all I have to say, I don't have anything more to say about that subject.
That wasn't the first time he'd voiced his concerns to Carr. When Palestinian political activist and politician
Hanan Ashrawi
was awarded the 2003 Sydney Peace Prize, Frank Lowy was one of the most vociferous among the chorus of Zionist protesters and Jewish lobbyists that
decried the result
and tried to dissuade NSW premier Bob Carr and the Sydney Peace Foundation from giving the award to Ashrawi. Lowy, among others, claimed that Ashrawi 'supported suicide bombings' and had a "
long history of terrorist apologias and anti-Israel incitement
". Sydney-based Jewish-Australian journalist
Antony Loewenstein
shows how fraudulent these claims are in the opening chapter of his book
My Israel Question
, arguing that Lowy and co's real problem with Ashrawi is her support for the Palestinian cause and anti-Zionist disposition.
So, like Silverstein, Lowy is without question a filthy rich corporate Israel cheerleader. But there's also evidence that he's probably a crook, too. For instance, it appears that Lowy nearly got involved in the British government's
Cash for Peerages
scandal with Lord Levy, one of Tony Blair's closest aides, back in 2002. From a 2002
Sunday Times
article
:
Lord Levy, one of Tony Blair's closest and most trusted aides, was paid at least £250,000 by an Australian property group headed by one of the world's richest men. The payments, which the company has attempted to keep private, are far higher than previously thought and began in 1999, the year Levy was appointed Blair's envoy to the Middle East, reporting directly to the prime minister.

They were authorised by Frank Lowy, the head of the Westfield Corporation, who has business and political interests in Israel and whose company is seeking planning permission to develop shopping centres across Britain. Lowy is a veteran campaigner on Jewish causes. He fought as a commando in Palestine during the 1948 Israeli war of independence and served with the Golani Brigade, which is currently serving in the occupied territories.

The disclosure has raised questions of "cash for foreign policy". MPs expressed concern at Levy's potentially conflicting roles as a consultant for a powerful multinational company and supposedly impartial and unpaid envoy. Levy said he paid privately for trips he made on behalf of Blair. In a letter to Jack Straw, the foreign secretary, Norman Baker, the Liberal Democrat MP for Lewes, said:


"I am concerned the Foreign Office's diplomatic initiatives in the Middle East should apparently be so closely tied to the aims of one of the world's richest men."



Baker said Levy appeared to be "simultaneously a quasi-minister, Labour fundraiser and consultant to a company seeking to influence government policy.
Looks like Lowy thought he could swing things Israel's way with his
shekels
.
Lord Levy
is himself a committed Zionist, a member of the UK parliament's
Labour Friends of Israel
, has a private residence and a business in the Jewish State, and is a personal friend of former Israeli Prime Minister Ehud Barak. His son, Daniel, used to work for Barak, and also for former Israeli justice minister Yossi Beilin.
The
Times
article also offers this information about Lowy:
Lowy has donated about £200,000 to build a memorial museum in Israel for his former brigade and has toured old battle sites with former comrades. His personal wealth was recently estimated by Forbes magazine at £1.5 billion and he is well known in Australia as a philanthropist supporting Jewish causes. Through the Westfield Foundation he has given to the United Israel Appeal, an organisation for resettling Jewish immigrants in Israel. His family was last year preparing to invest more than £30m in property and media interests in Israel.
Look what Lowy
got himself into
in 2006:
Lowy implicated in Israel bank scandal

PM - Wednesday, 25 October , 2006

One of Australia's richest businessmen has been embroiled in a high-level corruption scandal involving the Prime Minister of Israel.

Israeli press reports claim that the billionaire owner of the Westfield Group,

Frank Lowy, was involved in the scandal with the Prime Minister Ehud Olmert last year.

They allege that

Mr Olmert had a conflict of interest because he advanced Mr Lowy's interests in the privatisation of a major Israeli bank, Bank Leumi.

The Justice Ministry is investigating suspicions that Mr Olmert interfered with the tender to benefit Mr Lowy and another bidder, Daniel Abraham.

There are also allegations of a conflict of interest by the Prime Minister through a law firm that dealt with Mr Lowy's affairs in Israel.

The head of that firm is Ehud Olmert's father-in-law Professor Yossi Gross.

A spokesman for Frank Lowy is rejecting the claims tonight.

Emma Alberici reports

EMMA ALBERICI: Overnight Israel Attorney General confirmed he was investigating claims that Prime Minister Ehud Olmert accepted bribes from two international businessmen.

The bribes have allegedly been paid to help advance their interests during the 2005 privatisation of Israel's Bank Leumi, the country's second biggest bank.

The two businessmen referred to in reports are said to be

the Prime Minister's personal friends, one of which was named on the Hebrew language website, News First Class, as Frank Lowy, the Australian billionaire owner of the Westfield group.

Various reports during the tender process last year said the Australian real estate tycoon was in partnership on the Bank Leumi bid with American media and property mogul

Mortimer Zuckerman.

The website News First Class, first published the claims two weeks ago, which also say Ehud Olmert never declared a conflict of interest he had during the tender process.

His father-in-law, Yossi Gross heads the law firm, which allegedly deals with Frank Lowy's affairs in Israel.[...]

Frank Lowy is a Holocaust survivor who

immigrated to Israel to fight in the Jewish underground

before joining the rest of his family in Australia in 1951.

55 years on, he's the country's second richest businessman, worth $5.5 billion.

His $74 million super yacht Ilona is often seen at the (inaudible) docks in Israel.

In March of this year,

the Lowy family's LGF Holdings poached two investment bankers at UBS in Tel-Aviv to start a funds management business they called ION Asset Management.

Media reports over the past few years variously link the Lowy family name to the sales of three banks in Israel.

Israel's Attorney General has ordered the probe into claims that Prime Minister Ehud Olmert accepted the bribes while he was Acting Finance Minister.
Lowy's business partners in the bid for Bank Leumi were mega-Zionist billionaires
Mortimer Zuckerman
, former chairman of the Conference of Presidents of Major Jewish Organisations, and AIPAC Board Member
Daniel Abraham
. You couldn't find more Zionist company if you tried.
So at the very least, Lowy is
heavily involved
in Jewish affairs and Zionist lobby groups, he's extremely cozy with criminal Zionist elites, and he's a fanatical Zionist himself. So are his three sons: Peter Lowy,
co-CEO of Westfield Corp with his brother
Stephen,
sits on the board
of the
Simon Wiesenthal Center
and is chairman of the board of the
University of Judaism
, which has been renamed the American Jewish University after its merger with the Brandeis-Bardin Institute. Peter publishes the
Jewish Journal
which
glorifies him
in return:
Last Thursday night, at a banquet at the Beverly Hilton Hotel, the [University of Judaism] celebrated its 60th anniversary by honoring [Peter] Lowy. Mayor Antonio Villaraigosa was there, and President Bill Clinton and Gov. Arnold Schwarzenegger sent their best by video.
Peter is an important man in the U.S.: he
chairs the Homeland Security Advisory Council
, serves on the
RAND Corporation Executive Committee and Board of Trustees
and still finds time to serve Israel through the Washington Institute for Near East Policy (WINEP) as a
member of the Executive Committee
. He's
described
as a "deep-pocket contributor" to both the Democrat and Republican parties.
David Lowy is manager of the Tel Aviv-based
Ion Asset Management
and CEO of the family's LFG Holdings which has
millions of dollars of investments in Israel
, and Stephen Lowy, co-CEO of Westfield, is
chairman
of the
United Israel Appeal
.
Frank Lowy has a
long
history
of tax evasion. In 2008 it was revealed that he and his three sons had
hidden $US68 million
from the Australian Tax Office (ATO) and the IRS in a secretive Liechtenstein bank (Liechtenstein Global Trust, or LGT) through a complex network of shell companies and offshore trusts. The money was channeled via various
dodgy transfers
into the
Luperla Foundation
's account at LGT set up in May 1997 by the Lowys and Israeli lawyer Joshua Gelbard. Luperla was dissolved for "undisclosed reasons" by Frank Lowy in late 2001, around the time of 9/11, with Lowy claiming that the funds were "distributed for charitable purposes in Israel". He refused to reveal details of the supposed charities, and internal LGT documents showed that in fact the
funds were transferred
to Bank Jacob Safra in Switzerland.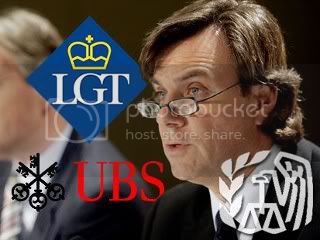 Peter Lowy -

ABC News

Photo Illustration
Peter Lowy, when called on by the
Senate's Permanent Subcommittee on Investigations
for testimony,
refused to talk
:
But senators tried to make up for his silence, offering accounts of shadowy shell corporations, secret transactions, mysterious acquisitions, exotic locations, all topped off by allegations of a late-night flight by Lowy this month to avoid a government subpoena. [...]

The subcommittee, chaired by [Senator Carl] Levin, released the results of a six-month investigation last week detailing the practice, estimating that it cost the Treasury $100 billion a year. Many of the allegations come from documents provided by a former LGT employee to authorities in the U.S. and other countries.

"The Greenfield and Lowy case histories unfold like spy novels, with secret meetings, hidden funds, shell corporations, captive foundations and complex offshore transactions spanning the globe from the United States to Liechtenstein, Switzerland, the British Virgin Islands, Australia and Hong Kong," Levin said. [...]

The Lowy family released a statement saying that it had met its tax obligations in the United States and Australia, that the money in question was legally held in Liechtenstein, and that it was "distributed for charitable purposes in Israel some years ago without claiming a tax deduction."

But Levin said the Lowy family had refused to give the subcommittee information about the donations.

"The Lowy family engaged in layer upon layer upon layer ... of activity to hide assets in a Liechtenstein bank," Levin said after the hearing. "We've got to end it."

Senator Levin would later use similar language when speaking to the press. "The complex structure that was set up and the movement of tens of millions of dollars from Liechtenstein to a Swiss bank seemed like facts more out of a spy novel than related to a normal bank account," he told
Bloomberg
. Levin further elaborates on the "ingenius set-up"
here
, and an ABC News video report is viewable
here
.
The Lowy family's
tax lawyer
in Australia is Frank's friend Mark Leibler AC, one of the most
prominent members
of the Australian Zionist lobby. On page 178 of his book
Murder By Media
, Scott Balson
wrote
:
As for AIR chairman and tax lawyer Mark Leibler, he is perhaps best known for inventing tax havens to get his super-wealthy clients off with little or no taxes. When ABC's 7:30 Report did a story on July 8 1996 asking "Where is the missing $800 million?" that the government had promised to collect from ultra-wealthy tax dodgers [details

here], it answered its own question, stating "All roads to Leibler--Mark Leibler." Indeed, the 1984 McCabe LaFranchi Report on Tax Avoidance named Leibler as a director of seven companies, and an advisor of many others, which went to the "bottom of the harbour" in the well-known scam of that name.
The
website
for the Council of Christians and Jews lists some of Leibler's roles in various Jewish-Zionist organisations:
He is deputy chairman ... of the National Australia Bank Yachad Scholarship Fund, which sends Australian scholars of diverse backgrounds ... to study in Israel in areas of world's best practice and return with ideas and experiences of advantage to Australia. [...]

He is the only practising lawyer cited in Business Review Weekly's '50 most influential business people in Australia' (February 2000); he is also one of the '50 Inspiring Australians' in Wendy McCarthy's A Fair Go: Portraits of the Australian Dream (1999).

Mark Leibler's list of wider business commitments, from directorships of such corporate entities as Coles Myer and Jetset tours, is overwhelmed by his huge commitments to Jewish causes in Australia, Israel and internationally. His current roles include Chairman of the World Board of Trustees of Keren Hayesod — United Israel Appeal, member of the Executive of the Jewish Agency for Israel,

National Chairman of the Australia/Israel and Jewish Affairs Council

[AIJAC], Life Chairman of the United Israel Appeal of Australia, Governor of the Australia-Israel Chamber of Commerce and Governor of Haifa University.
He is
also
Governor of Tel Aviv University (home to Frank Lowy's Israeli Institute for National Strategy and Policy), former president of the Zionist Federation of Australia (10 year term), former president of the United Israel Appeal of Australia (6 year term), and executive member of the World Zionist Organisation, and occasionally
writes op-eds
for the leading newspapers defending Israeli crimes and complaining about "anti-Semitism". When the Mossad carried out the extrajudicial, extraterritorial assassination of Mahmoud al-Mabhouh in Dubai, Leibler
argued
that it was unreasonable to class it as a murder. "Irrespective of who was responsible, describing the killing of Mabhouh as 'murder' is questionable and ignores the likelihood that the killing of an active terrorist leader from a violent rejectionist organisation positively saved lives," he said. Leibler himself was accused of having links to the Mossad by a
former Liberal Party MP
, but the documents presented as evidence were written off as fakes. Leibler made Prime Minister John Howard's "
elite list
" for donating $132,000 to the Liberal Party, which bought him a barbeque with Howard and George W. Bush in 2003. He also enjoys
chatting to Obama
about Israel. His extended bio is
here
[.pdf].
Frank Lowy's financial contributions to both sides of the Australian political pseudo-divide also deserve a mention. From
this article
:
Westfield shopping mall developer Frank Lowy topped the list of Jewish donations with $624,200 - $311,900 to the Australian Labor Party (ALP) and $312,300 to the Liberals.
The right wing Liberal party got $400 more than their Labor counterparts; maybe Frank penalised the latter for being such
stick-in-the-muds over Iraq
.
We know the attacks of September 11 were
carried out to further the political agenda of the Zionist elite
. Is it just a coincidence that two of them took out the lease of the World Trade Center complex just weeks beforehand? Doesn't look like it.
More:

The Quiet Benefactor: Lowy's Close Ties With Israel

Middle East Reality Check: Frank Lowy

Lowy Honoured By Rupert Murdoch and Australia's Political Elite

Tax Scandal: Lowy Claims $68 Million Went to Israeli Charities

How much do we know about Lowy and his beloved Israel?

Bloomberg, March 2009: Lowy Becomes Australia's Richest Man

Corporate Fat Cats Cash In - and Lowy Tops the List



Wikipedia: Frank Lowy