Jews push for WWII propaganda exhibit
Emotions high in Germany over Jewish
call for Holocaust exhibit at rail stations

By
TOBY AXELROD
7 November 2006
These pictures will not be shown ...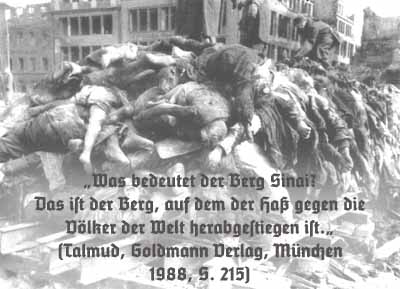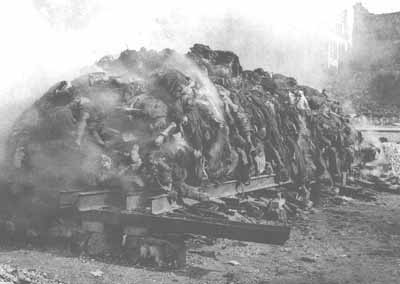 Victims of a REAL holocaust: German civilians and
Eastern European refugees on pyres in Dresden, February 1945.
---
... nor will these of more recent
Jewish atrocities in the Middle East ...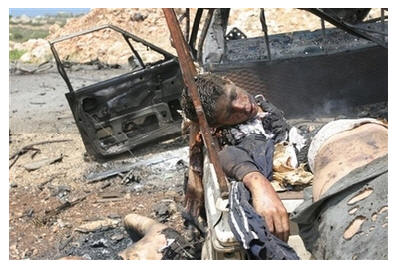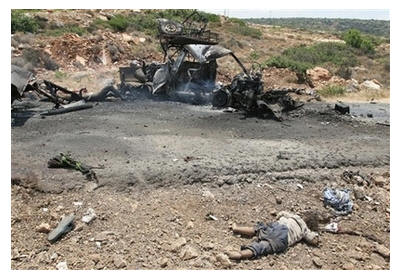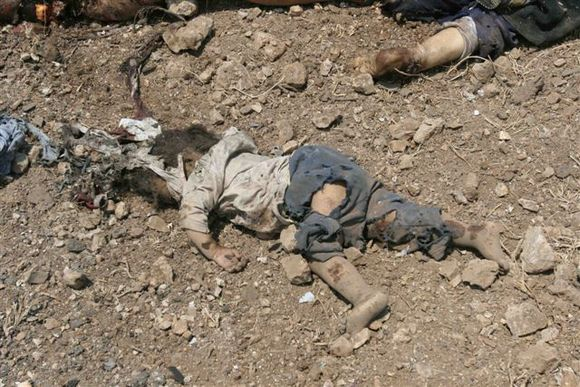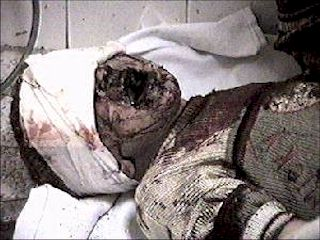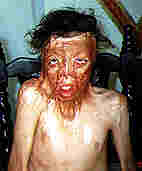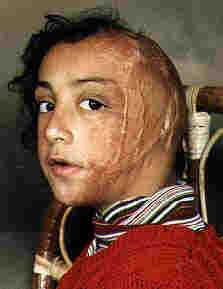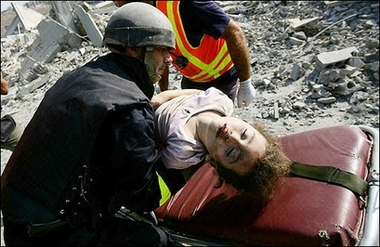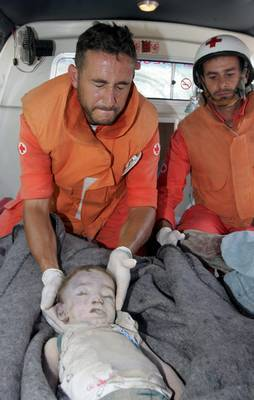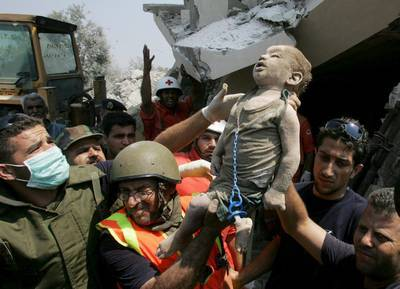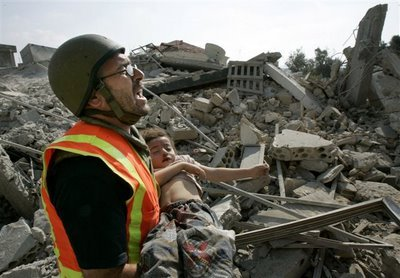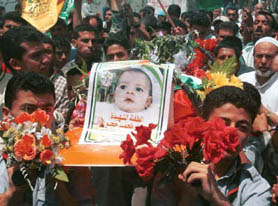 ---
Meanwhile ...
______________________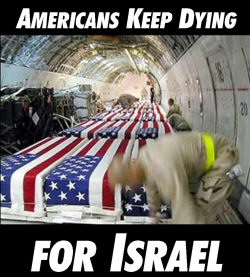 ---

BERLIN - Pressure is mounting on Germany's national railway to approve a traveling exhibit about the deportation of Jewish children during World War II - but it may take an act of the German Parliament to make it happen.

The debate - which has pitted mainstream politicians of every stripe against the head of Deutsche Bahn, a private company whose shares are owned by the government - underscores the high emotions regarding questions of Holocaust remembrance more than 60 years after the end
of World War II.

At issue is whether Germans should be confronted with the terrible truth, or whether the history should be relegated to museums one can choose to visit or avoid.

Those who favor the proposed traveling exhibit suggest that too many Germans would avoid the truth if given the choice.

But "it's the duty of the younger generation to preserve the memory of these events, including the fate of deported children throughout Europe," Transportation Minister Wolfgang Tiefensee said in an e-mail interview
with JTA.

Tiefensee, of the Social Democratic Party, is leading supporters of the traveling exhibit, and he has taken on Deutsche Bahn chief Hartmut Mehdorn, who opposes the concept and refuses to back down.
Tiefensee said crimes that took place in front of people daily in Nazi Germany should be documented and presented in a place where people pass daily now.
Jewish council stands in background
The exhibit, called "11,000 Jewish Children - With The Reichsbahn to Death," was seen in 18 French rail stations. Its creator, journalist and Nazi hunter Beate Klarsfeld of Paris, hopes to see it open in German early in 2007.
The exhibit details the fate of children who from 1942-44 were deported from France to Auschwitz via the Reichsbahn. It includes 150 photos.
The Deutsche Bahn, successor to the Reichsbahn, has acknowledged the role the railway played in the genocide, and there are memorials to that effect, including one at a commuter rail station in Berlin. The Nazi government paid the Reichsbahn a fee for every person transported as cargo.
Charlotte Knobloch ["Garlic"], head of the Central Council of Jews in Germany, told
JTA
that she doesn't want to get involved in the political debate between Tiefensee and Mehdorn, but finds the idea behind the exhibit important, and insists that it be broadened to include all children deported via the Reichsbahn, and not just French children.
Knobloch herself survived by hiding with a Catholic family in southern Germany.

Mehdorn reportedly has cited "technical, organizational and financial reasons" why the exhibit should not be installed as a traveling exhibit, but rather should be placed in one central location. He also has said it would be undignified to have people "chewing on rolls" while looking at such an exhibit.
Tiefensee took on Mehdorn last weekend, saying he would join with Hamburg-based social scientist Jan Philipp Reemtsma to promote Klarsfeld's concept.

Reemtsma's institute designed a groundbreaking exhibit about the crimes of the Nazis' Wehrmacht army, an exhibit that traveled around Germany for several years starting in the late 1990s.

'Holocaust' becomes central focus of 'Greens'
Mehdorn's views have generated little political support. Most of Germany's mainstream political parties have rallied behind Tiefensee, while Chancellor Angela Merkel's Christian Democratic Union proposed a compromise solution - an exhibit in the Nuremberg Railway Museum, plus a traveling exhibit in a handful of railway stations.
The Green party has been tougher.

"If Mehdorn fails to see the light, then the German Bundestag must debate the matter," Volker Beck, head of the Parliament's Green party fraction, told the Netzeitung Internet news agency. The exhibit belongs in the train stations so that "remembrance of these terrible events can rise into everyday consciousness," he said.

"No one can explain to me why it was possible to show the exhibit in French train stations, but not in German ones," Beck said.

Mehdorn was not available for comment, but Susanne Kill, a historian for Deutsche Bahn, said his position has been misunderstood. The railway favors an exhibit located at representative locations in most of the 16 German states,
she said, but opposes locating the exhibit in "stations that are so busy, with people running and going to catch trains or to go shopping."

"We think it's very important that people know how it could happen," Kill said.

"We will try to find places where we can show this exhibition near stations where people have the time and opportunity to concentrate on this topic if they want to."
In addition, she said, the railway would not use the Klarsfeld exhibit but rather one based on the material in the Deutsche Bahn's exhibit on the period from 1933-44, which opened in 2002 at the Nuremberg Railway Museum.
But Tiefensee is standing firm. He told
JTA
that the Nuremberg museum is the wrong place: It "shows the role played by the Reichsbahn under National Socialism, but the fate of Jewish children is not central there," he said.
"National Socialism was a dictatorship that played out in every day life. It was not just some clique that kidnapped an entire nation, but rather it was many people who looked away or joined in," he said. Because "the deportation of children took place out in the open, in train stations, thus the reminder of the horrible fate of these children belongs in these same places."
http://www.jta.org/page_view_story.asp?intarticleid=17252&intcategoryid=2
---


See also: WW II vs Zionist terror
Photos from World War II compared with photos of the Zionist war and occupation of Palestine

Jewish Manipulation of World Leaders
Cartoons/Caricatures - Archive